The Bombing of a Syrian Refugee Camp
Dozens of people are reported to have been killed by an air strike in the country's Idlib province.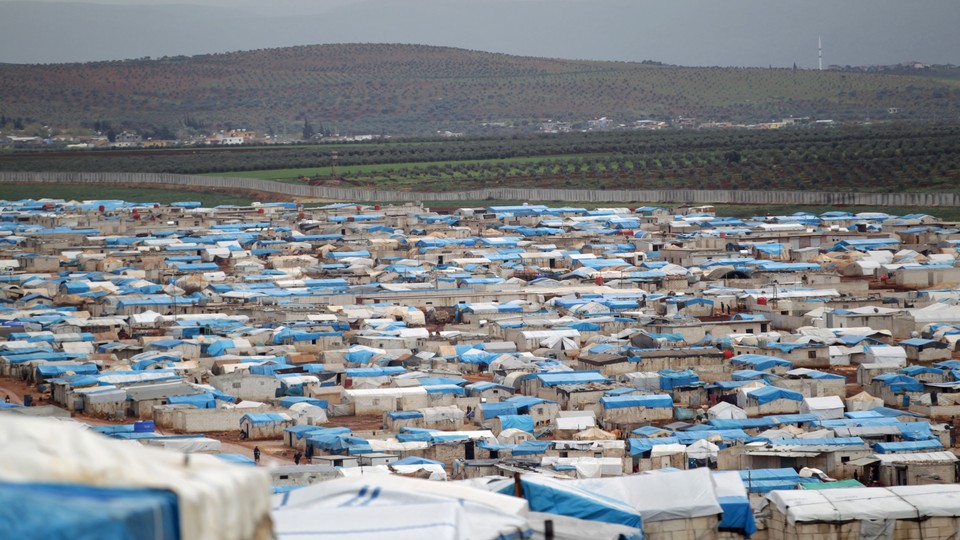 Dozens of people have been killed in a bombing of a refugee camp in northern Syria, multiple news outlets report.
At least one air strike killed 28 people at the camp on Thursday, Reuters reported. The camp houses people displaced by the country's ongoing conflict and is located outside of the town of Sarmada in the Idlib province, near Syria's border with Turkey. Women and children were among the dead, and the number of fatalities is expected to rise, according to the Syrian Observatory for Human Rights, the U.K. -based organization that chronicles activity in Syria with the help of activists in the country.
The BBC reported images on social media that showed charred tents and smoldering earth.
The origin of the strike is not clear. Sarmada is about 23 miles from Aleppo, which has seen several weeks of intensified fighting between Syrian government forces and rebel groups. Under pressure from the United States and Russia, all sides agreed to a temporary cease-fire on Wednesday. The pause in fighting was intended to take effect Thursday morning.
Christos Stylianides, the European Commissioner for Humanitarian Aid and Crisis Management, said on Twitter Thursday that the "shocking bombardment" of the camp is "unacceptable." "My thoughts are with the people who suffered already enough," he said.
About 6.5 million Syrians, forced to leave their homes during Syria's five-year-long civil war, are scattered across the country, according to the United Nations. Another nearly 5 million people have fled to other countries.