An Attempt to Revive Peace Talks in Syria
More than a dozen countries, including the U.S. and Russia, tried to reimpose a cease-fire between the Syrian government and rebel groups—but they were unable to set a date for new talks.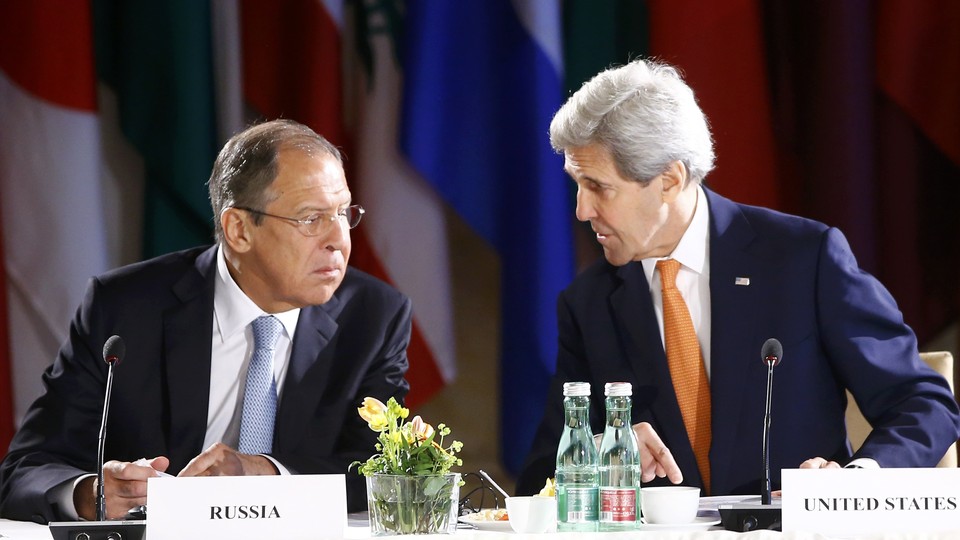 Updated on May 17 at 3:23 p.m. ET
International talks in Vienna to kick-start peace talks between the Syrian government and the opposition failed Tuesday to set a date for a resumption of dialogue.
The U.S. and Russia were among 17 countries that met to restore a cease-fire and deliver humanitarian aid to besieged towns—moves, it was hoped, that would persuade opposition group to re-engage in talks with the government. They had walked out of talks last month after an increase in violence.
In a joint statement after the meeting … the powers called for a full cessation of hostilities and access for aid.

In stronger language than in the past, they warned the warring factions that if they repeatedly broke the truce they risked forgoing the protection of the Feb. 27 cessation of hostilities agreement sponsored by Washington and Moscow.

They also directed the U.N.'s World Food Programme to air drop food, medicine and water to besieged communities starting on June 1 if humanitarian access was denied by either side.
Staffan de Mistura, the UN special envoy for Syria, had hoped to restart talks between the two sides by the end of this month. The talks do not involve ISIS or al-Qaeda-linked groups operating in Syria.