Syria's Carnage Reaches Assad's Coastal Strongholds
Early reports put the death toll from the attacks in Jableh and Tartous at between 78 and more than 120 people.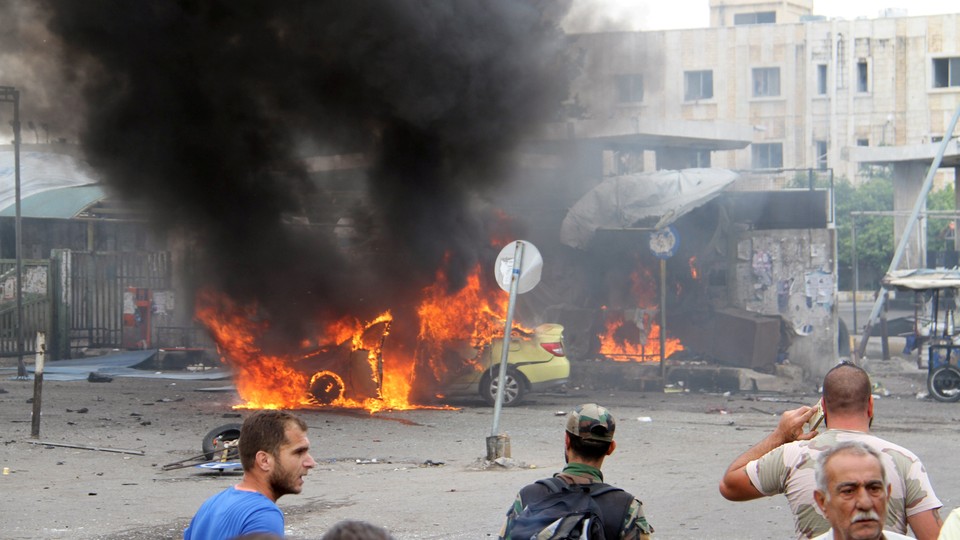 ISIS claimed responsibility for bombings on Monday that killed dozens and wounded many more in Syria's northwestern coastline cities of Jableh and Tartous, both of which lie in government-controlled areas thought to have been safe.
Four blasts from suicide or car bombers hit Jableh, one at a hospital and others at a bus station. In Tartous, the country's second-largest port that is home to a Russian naval base, the explosions targeted public transit. Early counts put the death tolls in the Mediterranean cities at between 78 and more than 120.
The Wall Street Journal reported that ISIS took credit for the blasts over social media:
An Islamic State-linked social media account, Amaq Agency, carried a claim of responsibility. It said the attacks targeted "Alawite gatherings" in the cities of Jableh and Tartus, referring to the Shiite minority sect to which President Bashar al-Assad belongs.

The attacks Monday morning began with a car bomb in a bus station in Jableh, followed by three suicide bombers detonating explosive belts, according to the Syrian Observatory for Human Rights, a U.K.-based opposition monitoring group. The Observatory put the death toll at 121, but state media said it was 78. Jableh is in Latakia province, the heartland of Mr. Assad's ruling Alawite minority.
The bombers set off at least five explosions, two of which were placed in cars, early reports suggested. Until now, these coastal cities have escaped much of the carnage seen in the five-year-long Syrian civil war, but in recent weeks areas in the north have become the targets of increased violence.