Will Fresh Elections End Spain's Political Deadlock?
King Felipe VI signed a decree that paves the way for a new vote on June 26 after last December's process ended in a stalemate.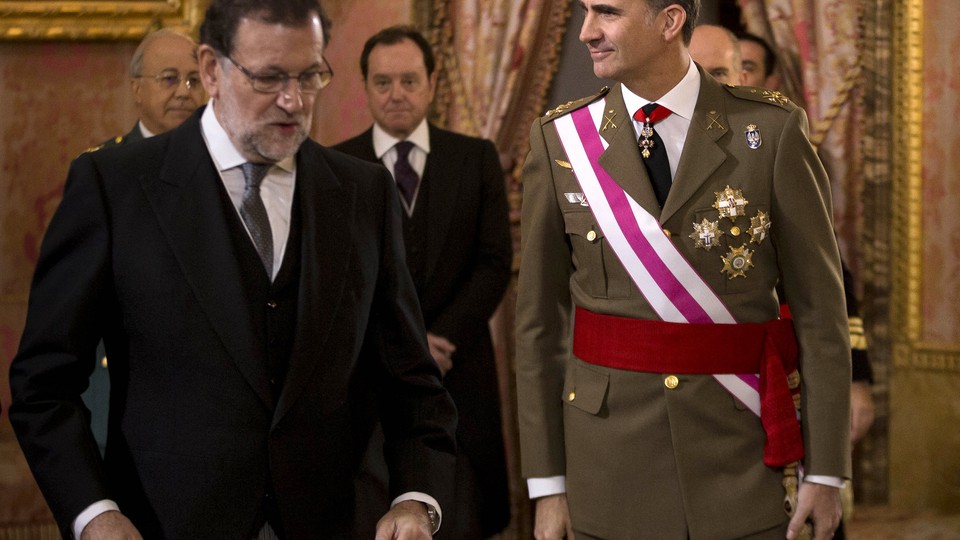 Spain's King Felipe VI signed a decree Tuesday to dissolve Parliament and hold new elections on June 26—a move that ends months of political deadlock over a new government caused by inconclusive parliamentary elections last December.
The Associated Press has the background:
Spain has been in a political stalemate, administered by a caretaker government led by conservative Popular Party leader Mariano Rajoy, who is hoping for a second term as prime minister. But newcomer parties Podemos and Ciudadanos upset the longstanding dominance of the Popular Party and Socialists in the Dec. 20 election.

No political party won enough seats to form a government and none was able to reach a sufficiently strong coalition deal.
Polls suggest Spaniards might be in for more of the same after the elections. The country was battered by the global recession of 2008 and in the political climate that followed two new parties emerged: the centrist Ciudadanos and the far-left Podemos. Still, in elections last December, Rajoy's party won the largest number of seats, but not enough to form a government on its own. The PP was also unable to secure support from other groups to form a coalition. The second-placed Socialists were also unable to cobble together enough support to form a government. They received backing from Ciudadanos, but not Podemos.
The June 26 election would be the first time Spain has had to repeat a vote since democracy was restored in 1978 after decades of General Francisco Franco's dictatorship.