The Solar-Powered Plane Landing in Arizona
The aircraft stopped in Phoenix Monday night during its trip around the globe.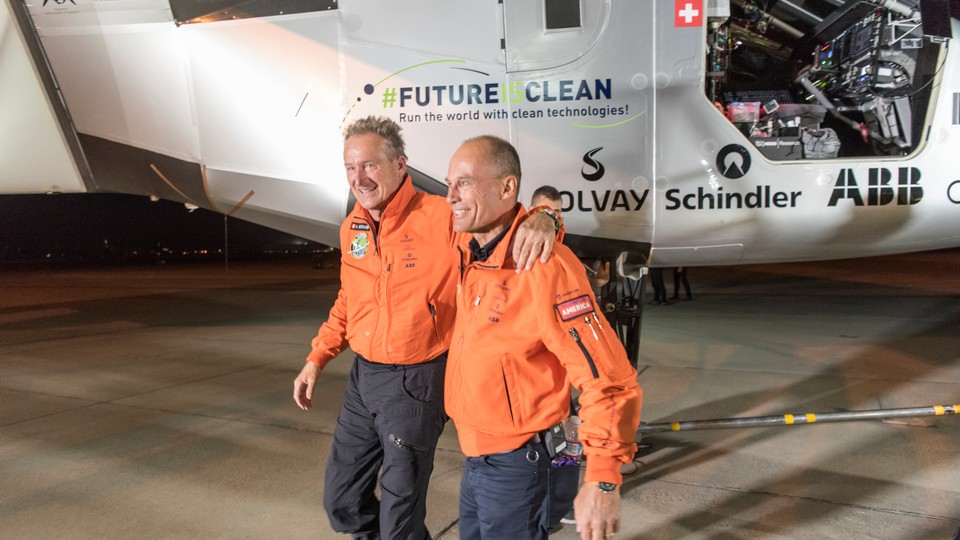 A solar-powered plane landed in Phoenix, Arizona late Monday night, touching down at a small airport on the desert city's outskirts for the 10th leg of its around-the-world journey.
The Swiss pilot of Solar Impulse 2, Andre Borschberg, stepped out of the plane just after 9 p.m., and The Arizona Republic reported him saying:
"It was a beautiful flight from California to Arizona," Borschberg, 63, told a large crowd that had gathered at the airport shortly after disembarking. He hardly looked like someone who had just spent 16 hours by himself in a single-seater plane.

Borschberg said he spent most of the flight busy, admiring the "fantastic landscape" outside his window. He admitted he had been too busy even to eat, particularly because he was flying at altitudes that required he wear an oxygen mask for some parts of the flight.

Still, it was a memorable, meaningful flight for him—and, he said, a "short" trip compared to other legs Solar Impulse 2 has completed.
Sixteen hours was short, comparably, because Borschberg also piloted the plane over the Pacific Ocean from Japan to Hawaii last July on what became a 118-hour flight, which set a record for the longest non-stop solo flight (the previous record was 76 hours, set in 2006).
Solar Impulse 2's journey began in March 2015, in Abu Dhabi, but was delayed for nine months after landing in Hawaii because the plane needed repairs to its solar batteries. Its carbon-fiber body has a wingspan larger than a Boeing 747, but weighs about as much as an SUV and cruises at highway speeds. Borschberg has at time piloted the plane with Bertrand Piccard, who is also the project's co-founder. Together they plan to fly back to Abu Dhabi, which would make the aircraft the first solar-powered plane to circle the globe. The plane is bound next for New York (although it may make other U.S. stops) and then for a trip across the Atlantic Ocean.
At 2 a.m. in Phoenix, the crew celebrated with a cheers: