Prokofiev in Palmyra
A Russian orchestra performed a concert in the Syrian city that was recaptured from the Islamic State in late March.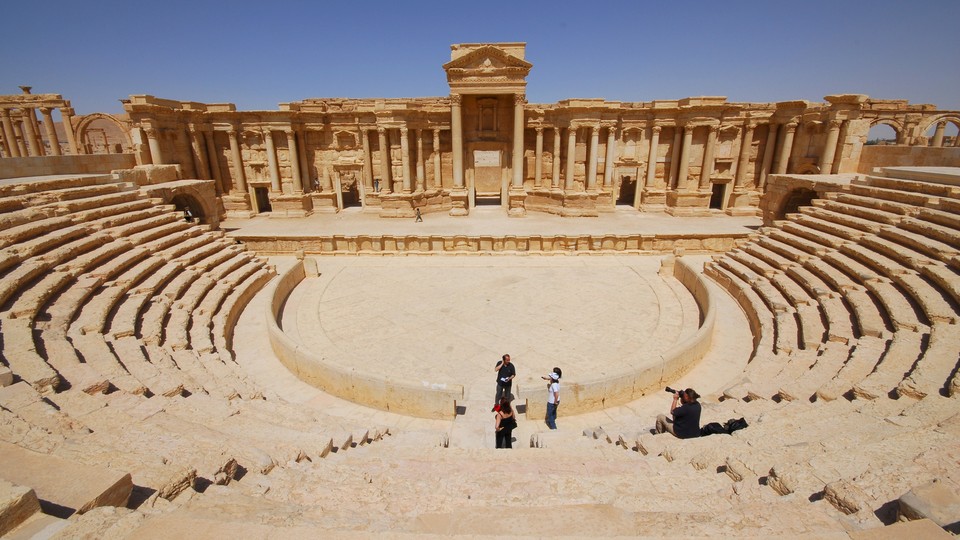 A Russian orchestra performed a concert Thursday in a 2,000-year-old amphitheater in Syria where Islamic State militants shot and killed 25 Syrian soldiers last summer.
The famed Mariinsky Theatre Orchestra, one of Russia's oldest music institutions, performed for just over 30 minutes at the Roman amphitheater in the ancient city of Palmyra. Syrian government forces, backed by Russian warplanes, wrested control of the city from ISIS in late March. After the capture, the Russian military found and dismantled hundreds of bombs and other explosive devices the Islamist militant group had planted across the city. ISIS took over Palmyra in May 2015, and spent the summer blowing up the historic city's antiquities, including centuries-old temples and shrines the group believed to be idolatrous.
The orchestra, led by conductor Valery Gergiev, played pieces by Johann Sebastian Bach, Sergei Prokofiev, and Rodion Shchedrin, AFP reported. Russian state media released a video of the performance:
The audience included dozens of Russian soldiers, Russian and Syrian dignitaries, and Syria's antiques and culture ministers, according to CNN.
The Russian and Syrian governments hailed Palmyra's recapture as proof of the success of their coalition against extremism. Thursday's performance was an apparent victory lap for Russia, whose president, Vladimir Putin, dedicated the concert to victims of the terror group and the armed forces fighting it.
A second concert at the amphitheater is scheduled for Friday. The Syrian National Symphony Orchestra, Syrian National Orchestra for Arab Music, Orchestra Mary, and al-Farah Choir will perform, according to SANA, the state-run Syrian news agency.
Palmyra is a UNESCO World Heritage site. UNESCO, the United Nations organization that documents the world's historic and cultural sites, called the destruction of its ruins by ISIS a war crime.