A Transgender First in the Philippines
The predominantly Catholic country elected its first transgender politician to congressional office this week.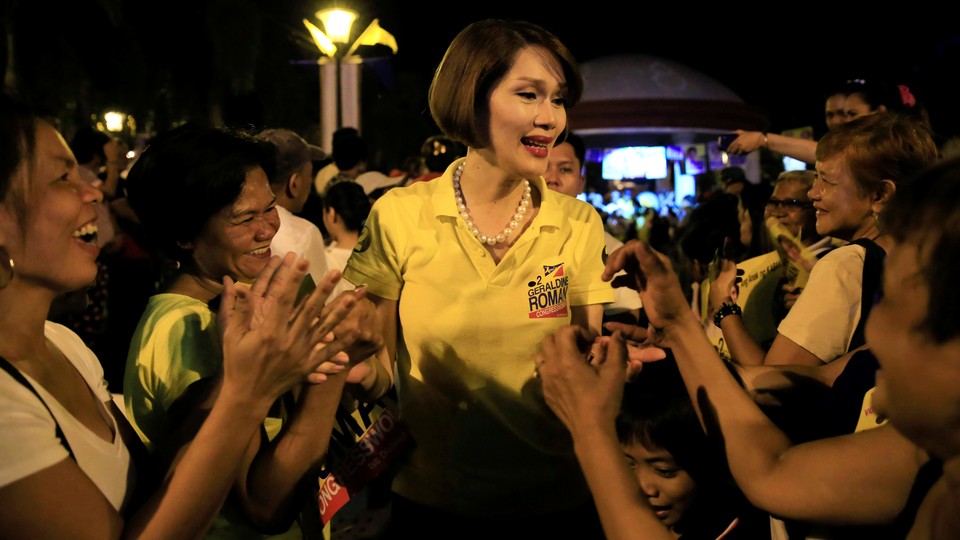 In a predominantly Catholic country where abortion, divorce, and same-sex marriage are banned, the Philippines this week elected its first transgender person to congressional office.
Geraldine Roman will represent the Bataan province, which is just north of the capital city of Manila, in the country's lower house. She is part of a political dynasty in the country, where her mother occupied the seat before her and her father before that.
After her victory, she told The Guardian:
"The politics of bigotry, hatred and discrimination did not triumph. What triumphed was the politics of love, acceptance and respect… I'm elated; very, very happy. I'm also excited to work. I realise that the burden is bigger because the stereotype of [LGBT] people... is we are frivolous, that we have nothing substantial to say, so I have to prove them wrong."
Roman, who transitioned in the 1990s, is also the first openly LGBT candidate. Gay rights in the Philippines made headlines earlier this year when Filipino boxer Manny Pacquiao said homosexuals were "worse than animals." While he has since apologized, the country has a long way to go for transgender rights. The country passed a law in 2001 that does not allow transgender people to legally change their names or sex.