Israel's Yaalon Exits
The defense minister quit Friday and warned of the rise of "extremism" in the country. Prime Minister Benjamin Netanyahu was about to replace Yaalon with Avigdor Lieberman, a hard-liner.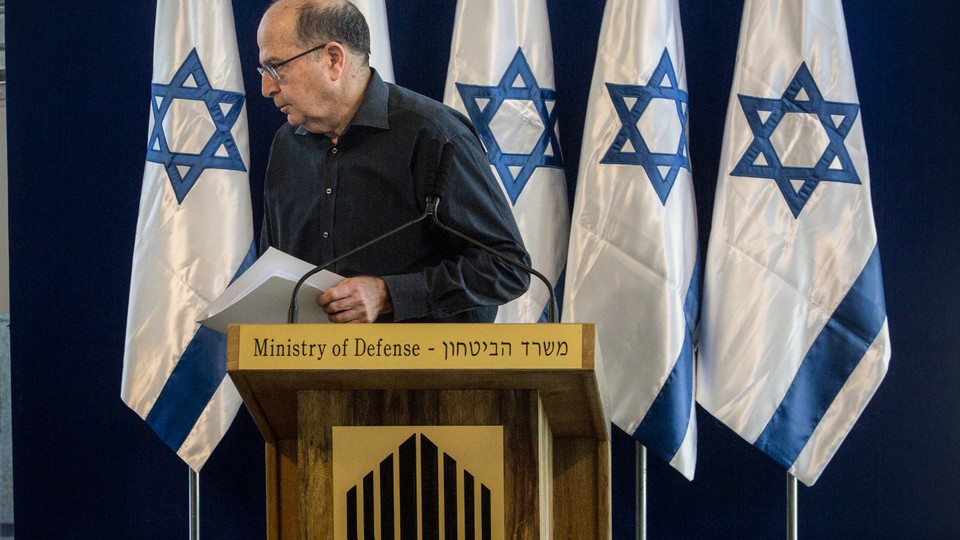 Updated on May 20 at 10:17 a.m. ET
Moshe Yaalon, Israel's defense minister, resigned Friday as Benjamin Netanyahu, the country's prime minister, all but replaced him with Avigdor Lieberman, a hard-liner.
Yaalon, who like Netanyahu is from the ruling Likud party, announced his resignation on social media, but also made a statement at the Defense Ministry (via Reuters).
To my great regret, I have recently found myself in difficult disputes over matters of principle and professionalism with the prime minister, a number of cabinet members and some lawmakers.

The State of Israel is patient and tolerant toward the weak among it and minorities ... But to my great regret extremist and dangerous elements have overrun Israel as well as the Likud party, shaking up the national home and threatening harm to those in it.
Yaalon, a former chief of staff of the Israel Defense Forces, has a long and distinguished military career. Lieberman, the man who is tipped to replace him, is known for his sometimes-inflammatory remarks about Palestinians and Arabs. He served as foreign minister in the previous Netanyahu government, but after elections last year said he would not join the coalition government. Lieberman's party, Yisrael Beitenu, enjoys support among Soviet-born Israelis.
Lieberman's party's inclusion in Netanyahu's coalition boosts the size of the coalition government's majority in the 120-seat parliament from 61 to 67—though the announcement by Orly Levy, a member of Yisrael Beitenu, that she'll stay in the opposition would reduce that number by one.