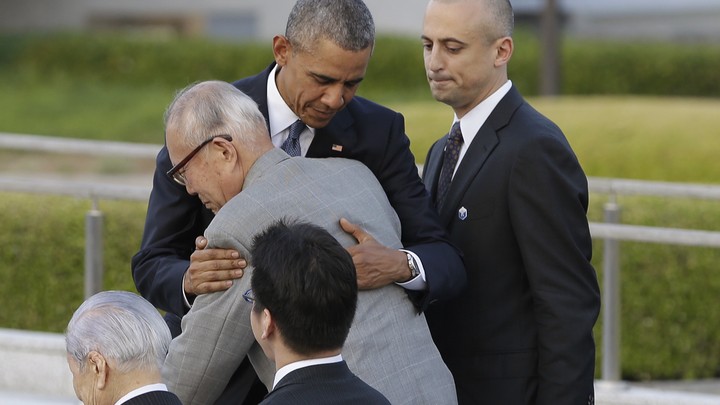 Updated on May 27 at 8:14 a.m. ET
President Obama became the first sitting American leader to make a trip to Hiroshima, the Japanese city bombed by the U.S. with an atomic device in 1945, and called for a "moral revolution" to accompany technology such as nuclear weapons.
"Technological progress without an equivalent progress in human institutions can doom us," Obama said in a speech after a ceremony at the Hiroshima Peace Memorial Museum. "The scientific revolution that led to the splitting of an atom requires a moral revolution as well."
After his speech, Obama met with hibakusha, the survivors of the attack, many of whom are now in their 70s, 80s, and 90s. He shook hands with them and even embraced one of the survivors, Shigeaki Mori, 79.
"The president gestured as if he was going to give me a hug, so we hugged," Mori said.
At an earlier ceremony at the memorial, Obama and Shinzo Abe, the Japanese prime minister, stood in front of the eternal flame. Both men laid wreaths at the memorial. The American president also signed a guest book: "We have known the agony of war. Let us now find the courage, together, to spread peace, and pursue a world without nuclear weapons."
At a news conference Thursday in Japan, which he was visiting for a meeting of the Group of 7 industrialized nations, Obama provided the rationale for why he's the first American leader to visit the memorial: "Part of the reason I'm going is because I want to once again underscore the very real risks [of nuclear weapons] that are out there and the sense of urgency that we all should have."
You can watch Friday's ceremony here:
We want to hear what you think about this article. Submit a letter to the editor or write to letters@theatlantic.com.