Montenegro's NATO Moment
The military alliance has formally invited the former Yugoslav republic to become a member.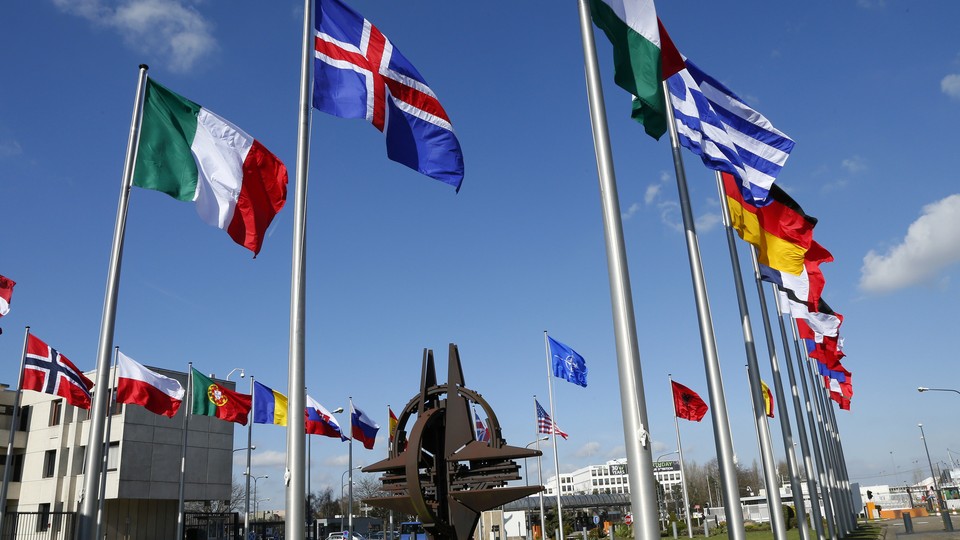 NATO has formally invited Montenegro to join the military alliance, adding a new member for only the seventh time in its 67-year history.
"As of today, Montenegro will have a seat at NATO's table, taking part in all our meetings as an observer," NATO Secretary General Jens Stoltenberg said Thursday.
NATO foreign ministers signed the document for Montenegro's accession to the organization at a meeting in Brussels. The agreement is still subject to approval by member states' national legislatures. If ratified, the former Yugoslav republic will become NATO's 29th member.
NATO announced in December it would invite Montenegro to join the alliance. Western nations cheered the news, but Russia's foreign ministry called the move "openly confrontational." Moscow has long resisted any hint of NATO expansion in Eastern Europe, and sees Montenegro's membership as having potential to undermine its influence in the Balkans.
Robbie Gramer, the associate director of the Transatlantic Security Initiative at the Washington, D.C.-based Brent Scowcroft Center, described in Foreign Affairs in December what Montenegro membership means:
With a standing military of only 2,000, Montenegro's membership will have little impact on the alliance's military strength. But the move has profound political consequences. It illustrates the progress that the western Balkans, and Montenegro in particular, have made since the bloody and traumatizing wars of the 1990s. To receive the invitation, Montenegro had to undertake a series of political, legal, and military reforms under the auspices of NATO's Membership Action Plan, a program that offers assistance and support for countries seeking to join the alliance.  

That a newly independent country could reach these standards in such a short time frame speaks to the enduring and powerful draw of the Euro-Atlantic community. In that sense, this remarkable success story comes at an opportune time—it is a bright spot in Europe's otherwise dark political terrain of internal strain, the refugee crisis, and the war in Ukraine.
Montenegro separated from Serbia and became an independent country in 2006 after three years as one state. Before that, both were part of Yugoslavia.
In 1999, NATO bombed Yugoslavia as then-President Slobodan Milosevic's troops carried out a bloody campaign against ethnic Albanians in Kosovo. Although most of the targets bombed were in Serbia, many in Montenegro were struck.