The Search for Survivors Under the Rubble in Nairobi
Rescue workers continue to comb through the debris of a residential building that collapsed in Kenya's capital last week.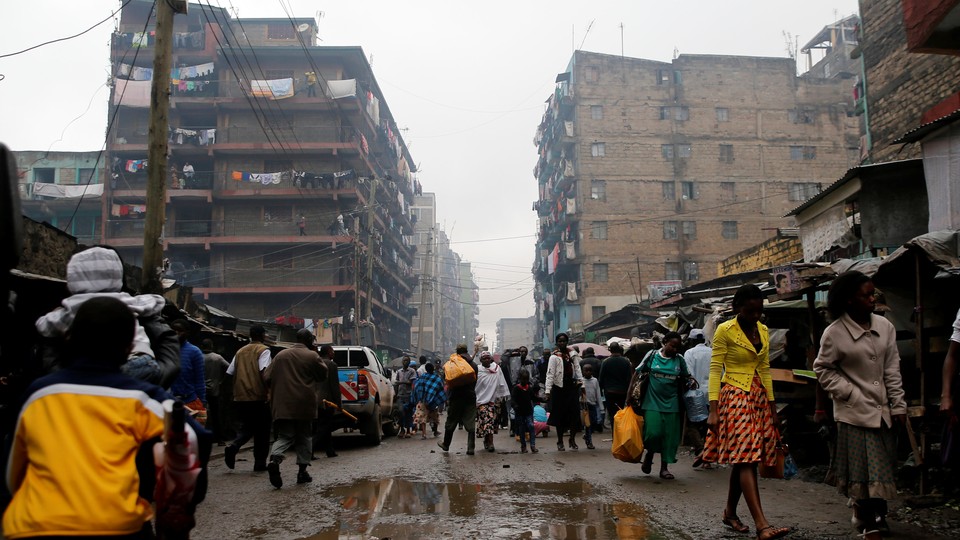 Emergency workers have rescued a woman trapped for six days under the rubble of a collapsed apartment building in Nairobi, the Kenyan capital.
Great News! Woman rescued alive 6 days after being trapped inside the rubble of the collapsed building in Huruma pic.twitter.com/DTuop49YvB

— Kenya Red Cross (@KenyaRedCross) May 5, 2016
Pius Masai, the head of Kenya's National Disaster Management Unit, told the AP the woman was "talking and in good spirits" as rescuers worked for hours Thursday to free her. Photos from the scene showed the woman, covered in blankets and wearing an oxygen mask, being carried away on a stretcher. She was taken to a nearby hospital:
The six-story building in Huruma, a residential estate in northeastern Nairobi, collapsed last Friday after days of heavy rain. At least 36 people were killed, according to Kenyan officials, the BBC reported. More than 80 people are still missing, and officials say they remain hopeful of more survivors being found. Workers have even rescued rabbits, trapped for days under the debris.
On Tuesday, rescuers found a six-month-old baby wrapped in a blanket and in a bucket under the debris. The girl appeared dehydrated, but did not sustain any visible physical injuries, according to the Kenya Red Cross. She was reunited with her father, but her mother did not survive the collapse.