A Fatal Stabbing in Germany
Witnesses had initially said the attacker at a train station near Munich had an Islamist motivation, but Bavaria's interior minister appeared to rule that out.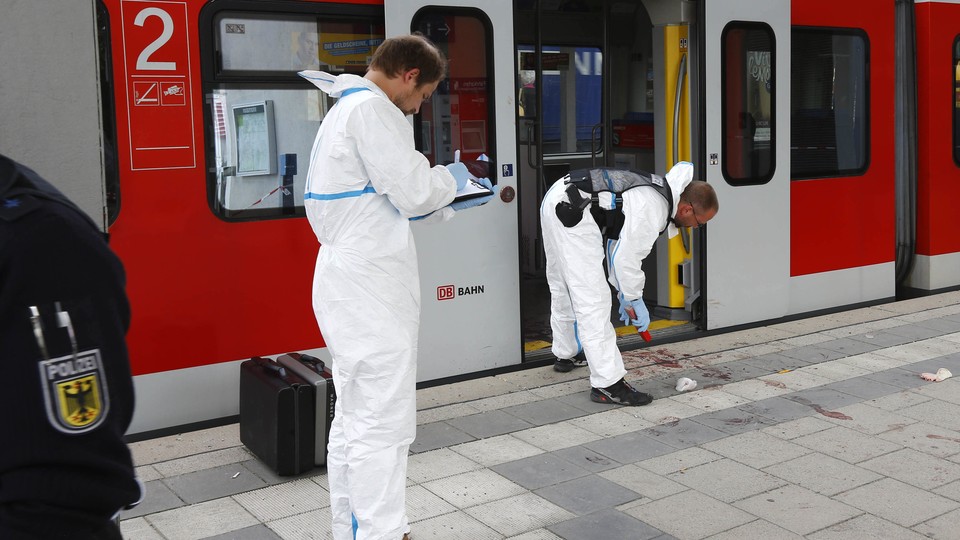 Updated on May 10 at 1:10 p.m. ET
Authorities have detained a 27-year-old man who attacked Tuesday four people with a knife at the Grafing station near Munich, killing one of them. Witnesses had initially said the man had shouted "Allahu Akbar" (God is great) before carrying out the attacks.
Here's DPA, the German news agency:
While authorities are continuing to investigate that possibility, Bavarian Interior Minister Joachim Herrmann said after a cabinet meeting in Munich that the man was clearly in a poor mental state.

Investigators said the 27-year-old German man lunged at four male victims at a train station in the town of Grafing at around 5 am (0300 GMT). The men had been trying to board a train to the state capital Munich, which is around 30 kilometres away.

Herrmann said the suspect has admitted to the attack.
The four victims were taken to hospital where one of them, who was 56 years old, died. One of the others is in a critical condition.
Investigators said the suspected attacker's ID card suggested he came from Hesse. It's unclear, they said, why he traveled to Bavaria to carry out the attack.
Lothar Koehler, the head of the Bavaria's State Criminal Investigation Bureau, was quoted by DPA as saying the suspect's attack was "more or less haphazard." The suspect, he said, had acknowledged taking drugs in the days before the attack.