Peaking at Mount Everest
Avalanches in the last two years have shut down climbing routes to the world's highest peak, but climbers are now in position to reach the top.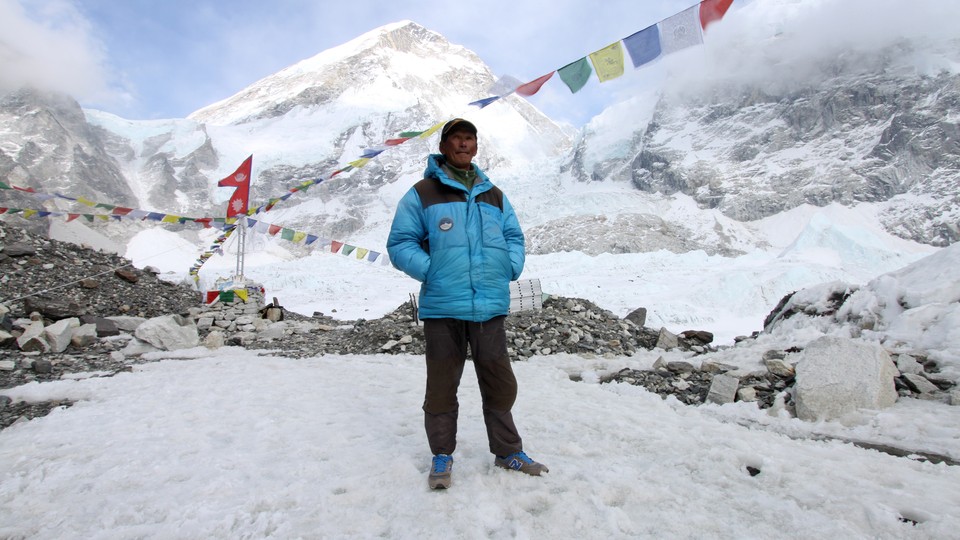 Climbing teams on Mount Everest reached the last base camp before the summit Tuesday and are now waiting for good weather conditions before they ascend to the peak of the world's tallest mountain, unreachable for the past two seasons because of deadly avalanches.
The South Col, the final camp before the top of the 29,000-foot mountain, is just 3,000 feet below. But that last leg is one of the riskiest parts of the climb, and the weather there is notoriously fickle. Climbers have not successfully completed the ascent since 2014, when an avalanche near the Khumbu Icefall killed 16 sherpa guides. In 2015, another avalanche triggered by Nepal's massive earthquake killed at least 18 people and closed climbing for the year.
There are currently 289 climbers and guides at various camps along routes to the summit. For those at the highest camp, like one climber with the Adventure Consultants team, there's plenty of waiting involved as climbers wait for the weather to clear. In the team's blog, a climber who signed his name as Mike described the waiting game:
I awoke to yet another milky sky day with a big halo around the sun. Sure enough it was snowing just after noon. As dry and sunny as April was May has been the opposite. Sun now hits my tent before 7.00am and if I'm not woken by avalanches there is a dawn chorus of birds.

...

In general this is a time of the expedition for patiently waiting, going for walks to keep fit and monitoring weather forecasts.
Climbers choose from several routes to reach Mount Everest's summit, and one of the more popular has always been the southern route, the site of the 2014 avalanche. This year, most teams have hiked the Southeast Ridge. However, an avalanche that struck Tuesday has trapped two Slovak climbers on the southwest face, which is considered much riskier, The Himalayan Times reported. One of the climbers is believed to be injured. The other is considered to be in fine condition, but rescue helicopters have failed twice to find the climbers.
Weather on Mount Everest has posed an increasingly constant challenge for climbers. In September, a Japanese mountaineer failed to reach the peak because of high winds. In 2014, Wang Jing, a Chinese climber, reached the top of Mount Everest and would have been the only person to do so that year, but her ascent has been invalidated in the view of many climbers, because they say she used a helicopter to carry her over a dangerous obstacle.