The Migrant Toll in the Mediterranean Sea
As many as 700 people may have drowned in three shipwrecks in the last few days off the coast of southern Italy.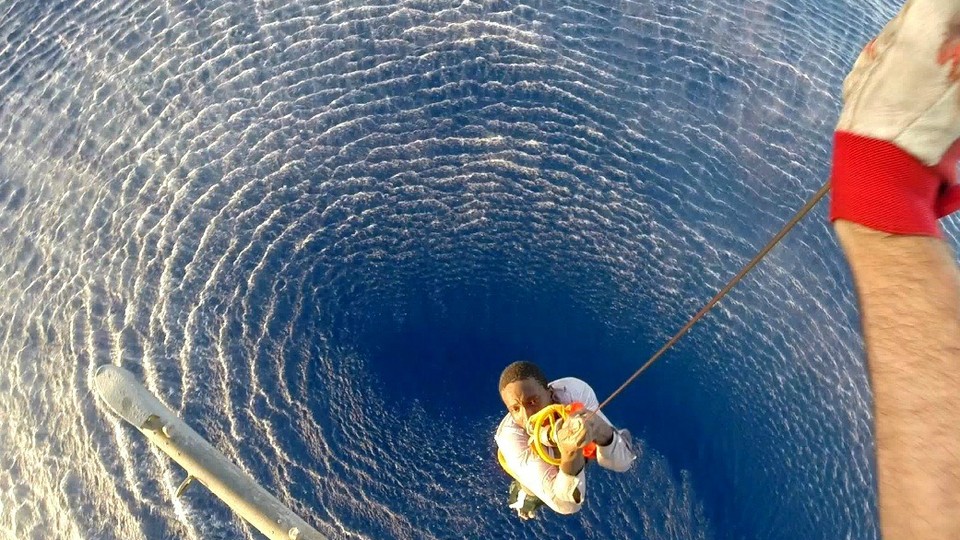 More than 700 migrants are feared dead in three shipwrecks in the Mediterranean Sea this week, according to the United Nations refugee agency.
Carlotta Sami, a spokeswoman for the UN High Commissioner for Refugees, said Sunday hundreds are missing after three boats carrying migrants and refugees capsized in the last few days, the AP reported. The boats, bound for Europe, sank off the coast of southern Italy.
Sami said about 100 people were missing after a wooden fishing boat capsized Wednesday. The Marina Militare, the Italian navy, captured photos of the boat the moment it flipped over, sending people into open water. Italian rescue boats can be seen in the photos approaching the capsized boat. The navy rescued 562 people.
A day later, a boat that had left from the Libyan port of Sabratha capsized as it neared Italy. About 550 people were reported missing. More from Sami, from the AP:
She said refugees said that boat, which was carrying about 670 people, did not have an engine and was being towed by another packed smuggling boat before it capsized. About 25 people from the capsized boat managed to reach the first boat while 79 others were rescued by international patrol boats and 15 bodies were recovered.
About 135 people were rescued in a third shipwreck on Friday. Forty-five bodies were recovered from the water, and an unknown number of people remain missing.
The Marina Militare has rescued dozens of people this week:
Survivors were taken to the coastal city of Taranto on the Italian mainland and Pozzallo in Sicily.
Thousands of migrants have attempted this year to cross the Mediterranean from Africa to Italy, Greece, Cyprus, and Spain. About 194,000 migrants and refugees have made the journey since the start of 2016, according to the latest estimates from the International Organization for Migration, an inter-governmental group. The total is more than double the amount that arrived in the same time period in 2015. About 1,475 have died during the sea crossing this year. Some 10,000 people have been rescued in the region in the last week alone.