The Families Suing Russia Over MH17
Thirty-three relatives of victims have filed a lawsuit against Russian President Vladimir Putin and his country over the downed airplane.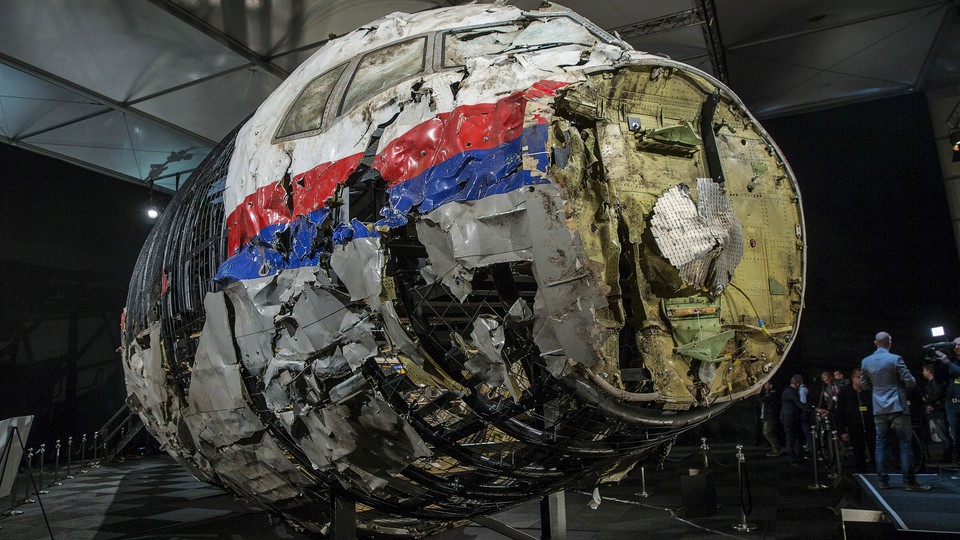 Families of the passengers of the Malaysia Airlines airplane shot down over eastern Ukraine in 2014 are suing Russia and its president, according to Australian media.
Thirty-three relatives from Australia, New Zealand, and Malaysia have filed a lawsuit against Vladimir Putin and his country over the crash that killed 298 people in 2014, the Sydney Morning Herald reported Saturday. The claim was filed by Sydney law firm LHD Lawyers in the European Court of Human Rights, an international court based in France. The claimants demand $10 million in Australian dollars, or $7.2 million in U.S. dollars or 6.4 million euros, for each victim.
Malaysia Airlines Flight 17, an international passenger flight from Amsterdam to Kuala Lumpur, was struck by a surface-to-air missile in July 2014, at the height of fighting in the Ukraine conflict. A Dutch investigation found the aircraft was shot down by a Russian-made rocket, but did not say who fired it. Ukraine and Western nations say Russian-backed separatists in Ukraine are responsible, but Russia accuses Ukrainian forces.
Of the victims, 193 were Dutch, 43 were Malaysian, and 27 were Australian. The remainder were citizens of Belgium, Canada, Germany, Indonesia, New Zealand, the Philippines, and the United Kingdom.
News.com.au reports the lawsuit alleges Russia and Putin violated the passengers' "right to life." The other allegations include, according the Sydney Morning Herald:
The documents allege that the Russian Federation has worked to keep its involvement hidden. It has failed to conduct an internal investigation, refused to participate in the cockpit reconstruction and its "Pawn Storm" cyber warfare unit hacked into the Dutch Safety Board investigative website, it states.
Jerry Skinner, a American aviation lawyer who also works at LHD Lawyers, is leading the case, according to Australian media. Skinner helped to negotiate $10 million in compensation from Libya for the families of the victims of the Lockerbie bombing in 1988. In that incident, 270 people were killed when a bomb detonated aboard a Pan Am flight as it traveled over Scotland.
"Our clients want them to accept responsibility and be accountable in some measure that will be satisfying to the individuals," Skinner told Australian broadcaster ABC.
Some families of victims in Australia are considering suing Malaysia Airlines over failing to consider potential security concerns about flying over eastern Ukraine at the time.