Mexico's President Calls for a Country #SinHomofobia
President Enrique Peña Nieto said Tuesday he would seek to legalize gay marriage nationwide.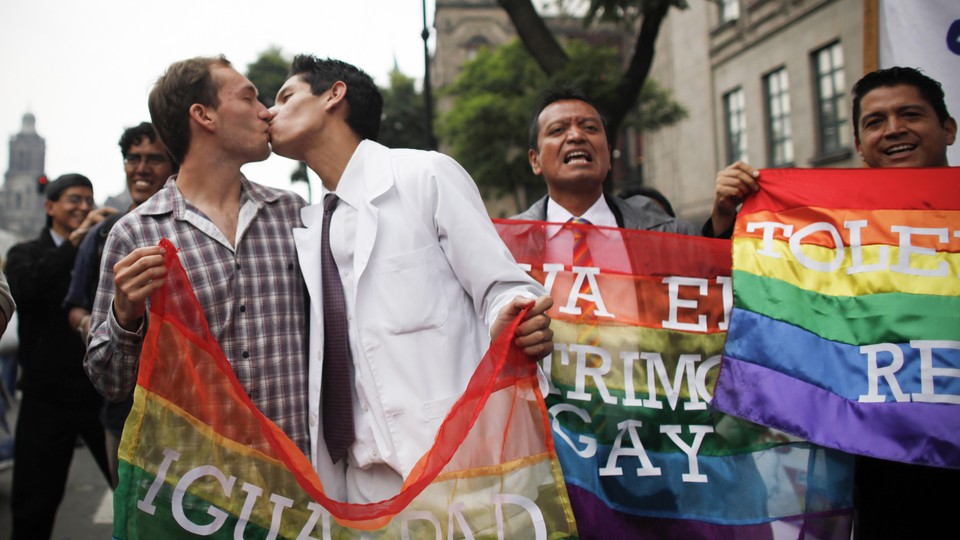 Mexican President Enrique Peña Nieto has announced that he will seek to legalize gay marriage in the country, giving support to a Supreme Court decision that last year recommended all states allow same-sex couples to marry.
Nieto met with representatives from LGBT rights groups Tuesday in honor of the International Day Against Homophobia and Transphobia. In a series of tweets after the meetings, Nieto said he opposed all forms of discrimination, and that he would propose an initiative to legalize same-sex marriage.
"For an inclusive Mexico that recognizes diversity," the tweet read, "one of their greatest strengths. #NoHomophobia."
Nieto also said he would seek changes in passport policy that would allow the documents to list the preferred gender of transgender individuals.
Nieto said he would seek to allow same-sex marriage by changing Article 4 of the country's constitution, according to the Mexican newspaper El Universal. "There cannot be in our country some states and entities that have certain rights and others that don't," he said.
Mexico's Supreme Court ruled in June 2015 that laws barring same-sex couples from marrying were unconstitutional and urged states to pass similar laws in accordance. The decision did not overturn state laws, which has meant that gay couples who want to marry must sue in each state where it is outlawed. Only a few states, like Coahuila, Jalisco, Chihuahua, as well as in Mexico City, allow same-sex marriage.
Nieto said Tuesday Mexico will join a group of countries in the United Nations that have worked in different capacities to promote LGBT rights across the globe. A rainbow flag watermarked his Twitter avatar, and his wallpaper image read "#SinHomofobia."