Will London Elect its First Muslim Mayor?
Sadiq Khan, the Labour Party candidate, is poised to make history.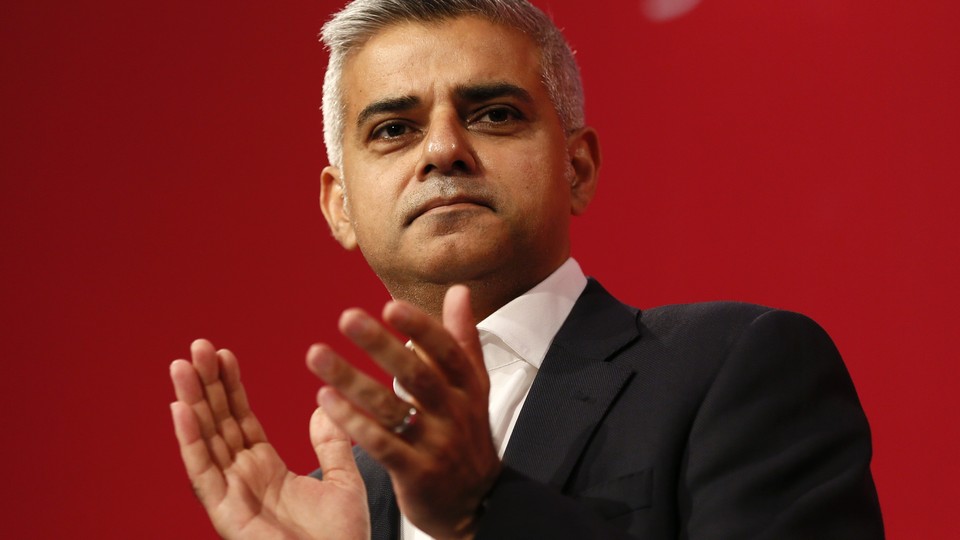 Britain is holding local elections this week on what some have dubbed "Super Thursday," but only one contest is worthy of the moniker: the race to succeed Boris Johnson as London's mayor.
Mayoral elections rarely draw international attention. But the British capital is no ordinary city and its mayoralty is no ordinary office. London holds tremendous sway within Britain itself, both as an economic powerhouse and a population center. Roughly one in 10 members of Parliament come from the city's constituencies—more than hail from Scotland, Wales, or Northern Ireland.
The office itself is also something of an anomaly. British governance tends to favor councils of local officials and collective government by cabinets of ministers. London's mayor, by comparison, is elected by millions of voters from the city and its surrounding suburbs. Because most of Britain does not directly vote for the ministers in Parliament, let alone the House of Lords or the queen, the mayor can claim a stronger democratic mandate than perhaps any British politician other than the prime minister (who herself is not directly elected to that post, but assumes it as leader of the largest party in Parliament).
Which makes the current front-runner's candidacy all the more interesting. Labour's Sadiq Khan, a 45-year-old son of working-class Pakistani immigrants who fled the chaos of the partition of the Indian subcontinent in the 1940s, is poised to claim victory Thursday. He entered public life as a human-rights lawyer, taking on cases challenging racial discrimination and police brutality, before entering Parliament. From there, he rose rapidly to serve as a minister in Gordon Brown's government and the Labour opposition thereafter, before gravitating toward a run for London's highest office.
A victory by Khan would be a signal moment in both British and European politics, to say the least. One year after Labour's thorough defeat in the general elections, retaking London City Hall would a much-needed boost for the party as it tacks to the left under Jeremy Corbyn, its leader. It would also usher in the first Muslim mayor of the European Union's largest city, a historic milestone as the continent, much like Britain itself, wrestles with identity, immigration, and integration.
Khan, for his part, does not see his identity as a British Muslim in binary terms. "I'm a Londoner, I'm European, I'm British, I'm English, I'm of Islamic faith, of Asian origin, of Pakistani heritage, a dad, a husband," he said in a New York Times interview. In the campaign, he's emphasized core issues for Londoners such as affordable housing and transportation. But his overall message is one of cosmopolitanism and embracing London's diversity.
Zac Goldsmith, the Conservative candidate and Khan's principal opponent, has a different origin story. A wealthy scion of a billionaire banker and the British aristocracy, the 41-year-old Goldsmith seemed like a natural leader in the next generation of Tories. He set himself apart through his interests in direct democracy and environmentalism, the latter of which was nurtured by years writing for an ecology-oriented magazine.
But as the campaign entered its final weeks, the clash turned to issues of religion and ethnicity. In April, Goldsmith accused Khan of "giving platform, oxygen, and cover" to Muslim extremists, which Khan vehemently denied. British Prime Minister David Cameron then echoed his Conservative colleague's remarks on the House of Commons floor and criticized Khan for appearances alongside Sulaiman Ghani, a fundamentalist imam in Tooting, the constituency Khan represents in Parliament.
"Suleiman Gani—the honorable member for Tooting has appeared on a platform with him nine times. This man supports [ISIS]," he said to jeers and cries of "racist!" from Labour MPs. "They are shouting down this point because they don't want to hear the truth."
Cameron's comments unleashed a barrage of criticism from Labour, who accused the prime minister of Islamophobia and dog-whistle politics. "The PM thinks it is a crime for Sadiq Khan to be a Muslim and have been a human rights lawyer," tweeted Chuka Ummah, a prominent Labour MP. "I think this Donald Trump approach to politics, trying to divide communities, turn them against each other—I don't think that will work in London," Khan told reporters in response to the controversy.
Ghani, for his part, denied any support for ISIS. News reports subsequently emerged that Goldsmith too had once been photographed alongside Ghani, and that a Conservative MP candidate had sought the imam's help in recruiting Muslim Tories during the last election.
The racially tinged battle for London City Hall is a relatively new development in British politics, but so is the idea of elected mayor for the city itself. A hodgepodge of local councils and boards developed over the 20th century into the Greater London Council, which became a bastion of Labour's hard left under "Red" Ken Livingstone's leadership in the early 1980s. In 1986, Margaret Thatcher's Conservative government abolished it and transferred its powers to almost three-dozen smaller councils in the city boroughs.
After the Labour Party won a majority in Parliament in 1997, Tony Blair's government passed legislation to create an elective mayoralty and a London Assembly representing the boroughs. Blair, a centrist who moved the party away from its left-wing roots, opposed Livingstone's candidacy and ousted him from the party after he chose to run as an independent. Livingstone won nonetheless, becoming the city's first elected mayor. He subsequently rejoined Labour for his re-election in 2004.
The current mayor of London, Boris Johnson, entered office after defeating Livingstone's bid for a third term in 2008. Johnson, a brash and boisterous journalist-turned-Conservative politician, will leave the mayoralty for a return to Parliament and a prominent role championing the "Brexit" movement. If the country votes to leave the European Union in June's referendum, he is widely expected to become a top contender to succeed David Cameron for the Conservative leadership—and the prime minister's office—in 2020.
Thursday's election will be the first without either Johnson or Livingstone, but their shadows can still be felt over the race. When President Obama visited London last month to urge Britain to stay in the European Union, Johnson attributed the U.S. head of state's views to the "part-Kenyan President's ancestral dislike of the British Empire." (British authorities jailed and tortured Obama's paternal grandfather for six months during the Mau Mau uprising in Kenya.)
Livingstone then found himself embroiled in even greater controversy. Labour suspended MP Naz Shah in April after she posted a map on social media suggesting that the Israeli-Palestinian conflict could be resolved by relocating Israel into the United States. (She later apologized.) Livingstone, in a BBC interview, tried to come to Shah's defense against allegations of anti-Semitism by distinguishing between Zionism and Judaism. Then things went awry.
"Let's remember, when Hitler won his election in 1932 his policy then was that Jews should be moved to Israel," he told the interviewer. "He was supporting Zionism before he went mad and ended up killing 6 million Jews."
Labour promptly suspended Livingstone after the uproar—he could also face expulsion from the party—and Conservatives pounced. Goldsmith accused Labour of hosting elements in which "anti-Semitism of the most aggressive form has been normalized," adding that Khan came from "the same movement within the Labour Party." Khan rejected Livingstone's remarks, but later conceded they could hurt his chances.
"I accept that the comments that Ken Livingstone has made make it more difficult for Londoners of Jewish faith to feel that the Labour party is a place for them, and so I will carry on doing what I have always been doing, which is to speak for everyone," he told the Observer. "If I should have the privilege to be the mayor I will show Londoners the sort of mayor I can be."
The attacks did little to sway the polls and may have hurt Goldsmith more than they hurt Khan. The conservative Spectator magazine described his campaign as a "toe-curling embarrassment." Goldsmith, seemingly acknowledging his dim chances, told reporters Tuesday he hoped to "do a Leicester City and zoom in from behind and win on May 5," referencing the soccer team's underdog victory in the English Premier League this week.
The odds against them were 5000-to-1. Goldsmith's prospects? Better, but still bleak.