A Victory for LGBT Rights in Seychelles
Parliament voted Wednesday to decriminalize same-sex acts in country.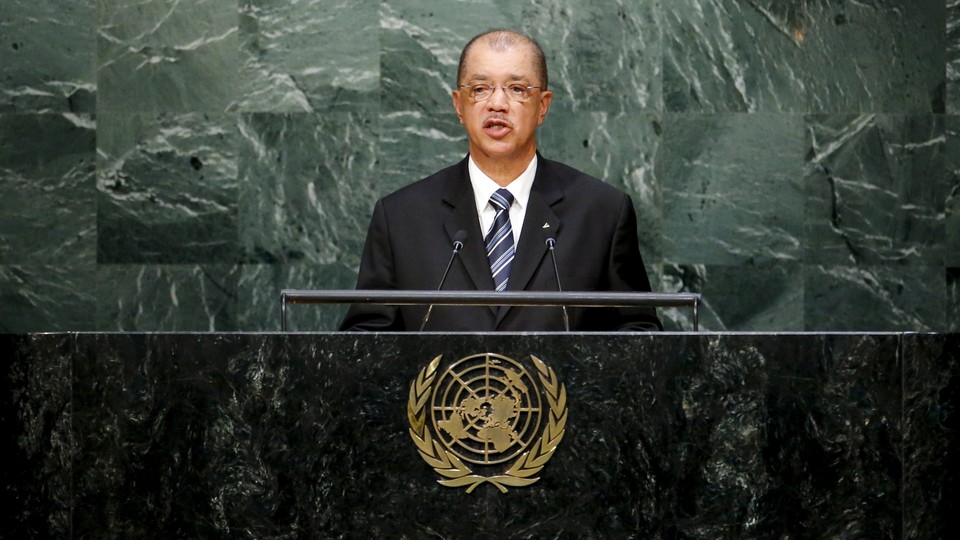 Same-sex acts are no longer illegal in the Republic of Seychelles, the 115-island country off the East African coast, making it one of the few African countries to decriminalize the acts.
Fourteen lawmakers voted Wednesday in favor of the proposal to amend Section 151 of the country's Penal Code that named sodomy a felony, punishable with up to 14 years in prison. Fourteen others abstained; four were absent.
The amendment comes three months after President James Michel's national address in which he said his government would introduce a bill to abolish Section 151. Michel called the law a colonial remnant and an "aberration" in Seychelles's "tolerant" society. He reminded the nation of Seychelles's 2011 agreement with the UN Humans Rights Council to decriminalize homosexuality.
Religious leaders criticized his remarks, saying the proposed bill went against beliefs in the overwhelmingly Catholic country.
The ministers who voted for the legislation disagreed that these beliefs should inform law, a state news agency reports:
When addressing the proportion of the population who have said that sodomy is a sin, Morgan said that by decriminalizing the act does not mean the act is no longer a sin.

"A sin is not determined by the government but by religion. Each individual needs to follow his or her conscience on the issue."
Before the vote, religious leaders "had already expressed their dissatisfaction with the proposal during a consultative meeting organized by the Leader of Government business in the National Assembly." Still, the country's Roman Catholic bishop called for Parliament to vote "according to their informed conscience, free from all irrelevant external interference," the Seychelles News Agency reports.
The next step, said Seychelles Anglican Bishop James Wong, is dialogue.
"The church is not pushing out those who are practicing sodomy or members of LBGTI [Lesbian, gay, bisexual, transgender and intersex community] but what I'm proposing is the need to establish a dialogue, where we say the doors of the church are opened and that God loves all people of earth. We have to establish a dialogue between both parties and at the end of the day, the love of God has to prevail," said Wong.

"The church is against the repealing of the law but the church policy is that whether it has been repealed or not, life goes on. We should not discriminate against anyone," he added.