Kenya's Violent Protests
Three people are confirmed dead in Monday's demonstrations.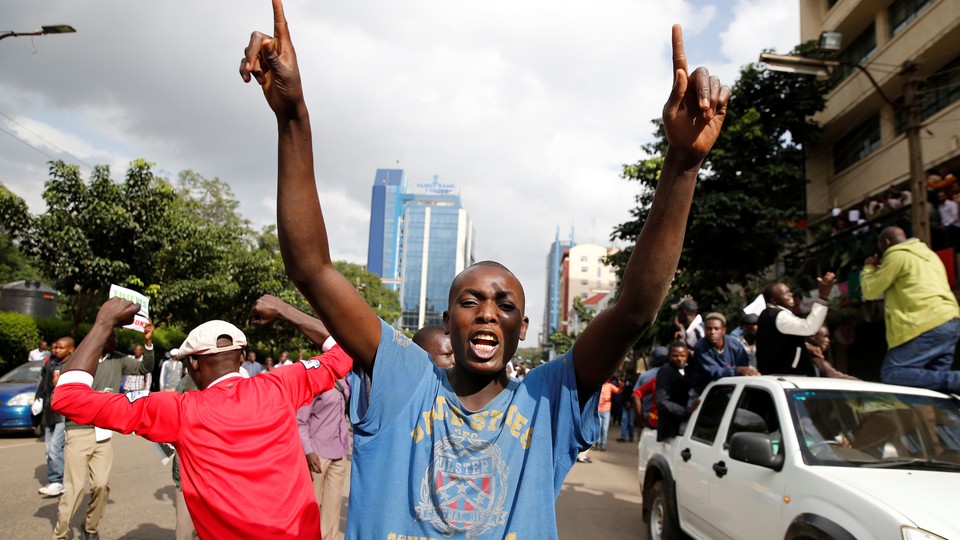 The fourth week of protests against Kenya's electoral commission turned violent Monday as demonstrators clashed with police, leaving three dead and several others injured.
Security and medical sources have now confirmed that three people were killed in clashes between police and opposition supporters in Kenya.

Two men were killed in western Siaya town while another man was killed in the lake city of Kisumu.
Police used water cannons and tear gas in multiple Kenyan cities to disperse groups rallied by the opposition Coalition for Reforms and Democracy (CORD) ahead of general elections in August 2017. The party views the election commission as "politically-biased."
CORD leaders and supporters marched on the Independent Electoral and Boundaries Commission (IEBC) building in Nairobi, Mombasa, and other cities, calling for the removal of IEBC's members.
In 2013, CORD accused the commission of manipulating the presidential election result.
… politicians are already trying to galvanise their supporters in a nation where violence erupted after the 2007 vote and the opposition disputed the outcome in 2013.

CORD, led by Raila Odinga who lost the 2013 vote and unsuccessfully challenged the result in court, has accused the IEBC of bias and said its members should quit. IEBC officials have dismissed the charge and say they will stay.
According to the Daily Nation, crowds threw stones at police and multiple people were shot during the protests.
Police called the protests illegal and the government urged CORD to suspend the demonstrations and pursue IEBC's removal through the constitution.
"The demonstrations are illegal and the organizers have been clearly warned. If they insist on rioting, they will meet us there," Lucas Ogara, Mombasa's police chief, told Reuters.
But at a news conference Sunday, CORD leaders confirmed Monday's demonstrators would go on, stating:
Kenyans will be doing this, as we have done in the past, in exercise of their right to assemble peaceably and to direct the widest possible attention to a great national issue.