Kenya's Anti-Doping Crisis
The international anti-doping agency has determined that Kenyan national athletics do not meet its standards.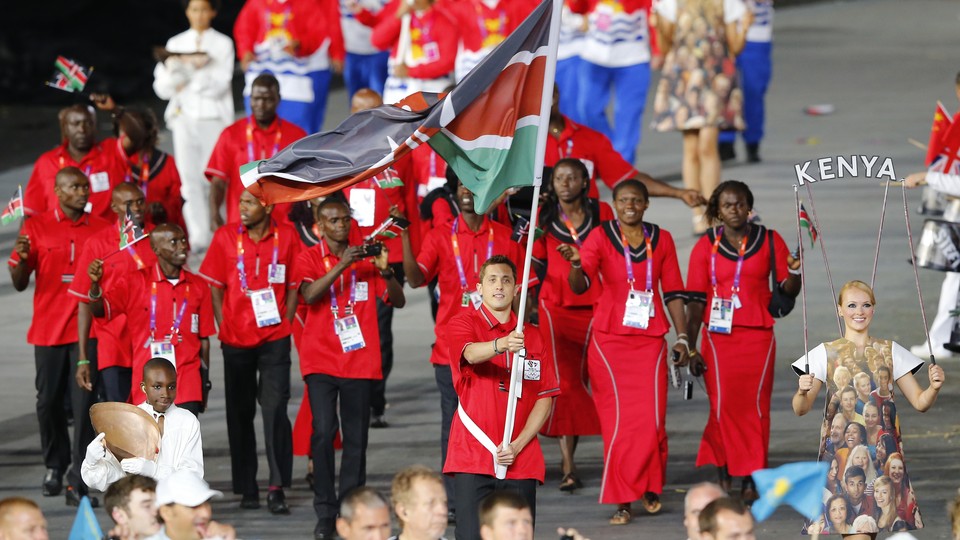 The world's anti-doping authority has declared that Kenyan national athletics do not comply with international standards, putting the country's participation in the Rio Olympics this summer at risk.
The World Anti-Doping Agency announced the recommendation from its independent review committee Thursday afternoon on Twitter:
The #WADA CRC has made the unanimous recommendation that #Kenya be declared non-compliant with immediate effect.

— WADA (@wada_ama) May 12, 2016
The CRC cites issues with #Kenya's legislation which it says is not in line with the World Anti-Doping Code.

— WADA (@wada_ama) May 12, 2016
The legislation WADA cites was approved last month. Facing pressure from WADA to crack down on cheating in sports, Kenyan President Uhuru Kenyatta signed an anti-doping bill that created a national agency that would fine and imprison athletes who are found to be guilty of doping, according to the BBC.
The committee's recommendation must be ratified by WADA's board, The Guardian reports. The decision to ban Kenya from participating in the summer games is up to the International Olympic Committee.
The International Association of Athletics Federations (IAAF), the global governing body for athletics, investigated doping allegations in Kenya last year. Dick Pound, the former president of WADA and chair of its independent committee, said in November that it is "pretty clear that there is a lot of performance-enhancing drugs being used" in Kenya. Pound led the investigation of Russian athletics that in November alleged widespread doping by athletes and corruption among officials. In response, the IAAF suspended Russia's membership in the association. WADA officials were sent Russia to overhaul its anti-doping practices in time for Rio, and IAAF will decide on Russia's membership in June.
Runner's World detailed last year the reports of alleged cheating among Russian and Kenyan athletes:
Between 2001 and 2012, some 146 Olympic and world championships medalists in running and walking events 800 meters and longer had blood test results that were grounds for suspicion of performance-enhancing drug use, according to German TV station ARD's new documentary Doping–Top Secret: The Shadowy World of Athletics, and simultaneous reporting by the Sunday Times.

Fifty-five of those said to have suspicious blood results were gold medalists. More than 80 of the suspicious medals were won by Russians, and 18 were won by Kenyans. In a 5,000-athlete database maintained by the International Association of Athletics Federations, 800 were judged by two Australia-based experts to have blood values that suggested illegal drug use, mainly indicative of the blood booster EPO.
Kenyan athletes won 11 medals in the 2012 Olympic Games in London, nearly all in track events. Russia won 18.