The Jian Ghomeshi Legal Saga Ends
The former CBC radio broadcaster signed a peace bond Wednesday as prosecutors dropped the last sexual-assault charge against him.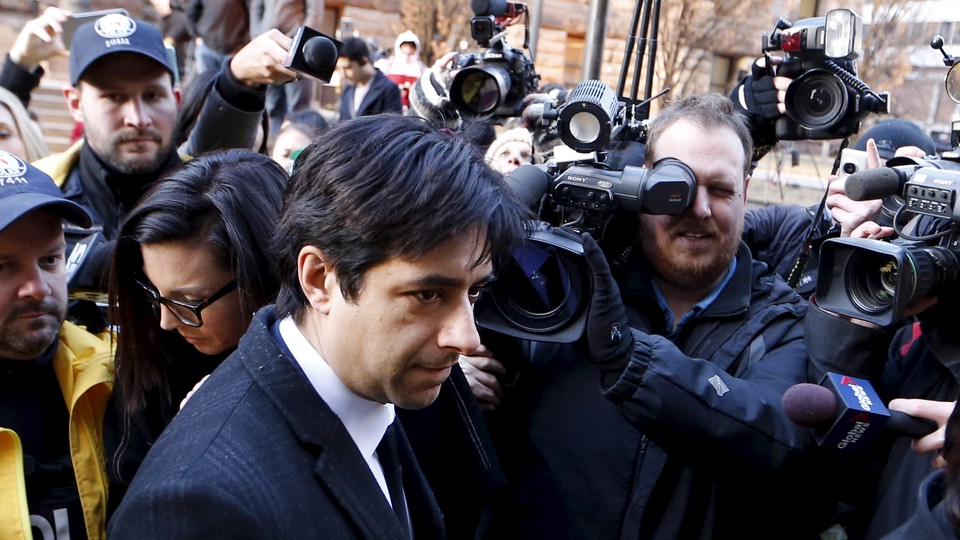 Jian Ghomeshi, the former Canadian radio star,  apologized Wednesday to a woman who accused him of sexual assault and signed a peace bond as part of an agreement with prosecutors, ending a two-year legal saga that roiled Canadian media and sparked a national conversation on sexual assault.
The charges stemmed from allegations made by Kathryn Borel, who worked alongside Ghomeshi at the Canadian Broadcasting Corporation. Prior to the allegations against him, Ghomeshi was one of the most prominent figures in Canadian media and had a substantial international following.
The peace bond avoids a second trial for Ghomeshi that had been scheduled for June. The Toronto Star has more on the allegations and his apology:
Ghomeshi, 48, stood before a judge and read an apology to Kathryn Borel for his "sexually inappropriate behaviour" in the workplace.

"I now recognize that I crossed boundaries inappropriately," Ghomeshi said, speaking in the court for the first time since entering his not-guilty plea. "I didn't appreciate the damage that I caused… the incident was thoughtless and I was insensitive to her perspective and how demeaning my conduct was towards her."

The court heard that while they were working late at the office one night in 2008 Ghomeshi approached Borel from behind as she leaned over her, "held her waist and pressed his pelvis back and forth repeatedly into her buttocks" while they were both fully clothed, according to the facts supporting the peace bond. The incident lasted several seconds.
Outside the courthouse, Borel told reporters she wanted the ordeal to end and considered his apology to be "an acknowledgement of wrongdoing." She also criticized the CBC for ignoring her complaints when she raised them in 2008.
Borel was not the only woman to accuse Ghomeshi of sexual abuse. In March, an Ontario judge acquitted him of four counts of sexual assault and one count of "overcoming resistance by choking." The charges stemmed from accusations by three women, though more than 20 women came forward with allegations of violence and abuse after his departure from the CBC in 2014.
Toronto police filed charges against him later that year. Prosecutors chose to try Borel's allegations separately from the other charges because it occurred at their workplace, whereas the other incidents occurred at his home.
Peace bonds are a staple of the Canadian criminal-justice system, with resemblances to probation and restraining orders in the U.S. system. Under the bond, Ghomeshi will not be allowed to contact Borel in any way and must "keep the peace" by not committing other crimes. Violating the bond could result in a months-long jail sentence. Agreeing to a peace bond also does not legally count as an admission of guilt.
In exchange, prosecutors dropped the charges against him, avoiding a second trial scheduled for June. Canadian criminal-defense lawyer David Butt noted in The Globe and Mail that the bond could suggest trouble with the prosecution's case:
Peace bonds are daily fare in criminal courts, with two distinct patterns of use. The first is to clear minor flotsam and jetsam off our chronically crowded court dockets. Neighbour stomp on your tulips? Peace bond. Throw a drunken ineffectual punch at a sports bar when someone dissed your team too hard? Peace bond. Common-sense prosecutors use peace bond in minor cases when the wake-up call of just being charged is lesson enough, and more serious matters await.

The second pattern of use of a peace bond is altogether different. Whenever a serious charge is resolved with a peace bond, the unstated message is that the case was on life support. In serious cases, a peace bond is an all-but abject surrender by the prosecution, a face-saving measure just shy of a complete abandonment of the case.
Speaking to reporters after the court proceedings, Borel said she supported the prosecutors' decision to seek a peace bond and said the ordeal would not be over until Ghomeshi "admits to everything he's done."
"In a perfect world, people who commit sexual assault would be convicted for their crimes," she said in her statement. "Jian Ghomeshi is guilty of having done the things that I've outlined today. So when it was presented to me that the defence would be offering us an apology, I was prepared to forego the trial. It seemed like the clearest path to the truth."