Italy's Civil Unions Battle
The Italian Parliament voted to extend the right to same-sex couples on Wednesday.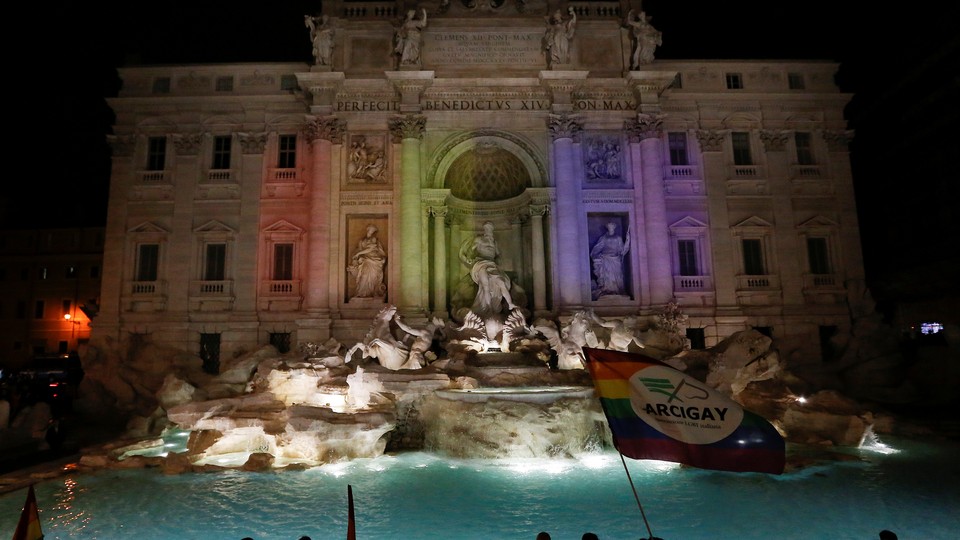 Italian legislators voted to legalize civil unions for same-sex couples on Wednesday, spurning fierce resistance by the Roman Catholic Church in favor of a growing consensus on LGBT rights in Western Europe.
The Italian Chamber of Deputies voted 372 to 51 in favor of the bill, with 99 legislators abstaining. The Italian Senate previously approved it in February. The New York Times has more details:
At the Trevi Fountain in Rome, people with rainbow flags gathered to celebrate.

It was a historic occasion for a nation that is still dominated by the Roman Catholic Church, which opposed the measure, and where traditional family norms are still strong. It was also a victory for Prime Minister Matteo Renzi, who supported the bill.

Nearly every Western country has legalized same-sex marriage or some form of civil union for gays and lesbians. Italy was perhaps the most prominent exception, and the issue has generated significant controversy.
To compel allied legislators to vote for the bill, Renzi connected it to a motion of no confidence in his government, which he won.
Wednesday's vote was a significant victory for gay and lesbian Italians, but not a sweeping one. Opposition from Catholic clergy pushed legislators to water down some of the bill's protections. As The Guardian noted, the final version has numerous shortcomings:
A draft article that would have granted gay couples the right to adopt their partners' biological children was dropped. While adoption has not been ruled out, family judges will decide on a case-by-case basis.

Amid concern that civil unions would be too similar to marriage, references to a need for faithfulness were removed. Gay couples will be able to take each other's names and inherit each other's residual pension rights, but critics say the new rules fall short of the legal protection offered to same-sex couples in other European countries, as well as Canada and the U.S.
Another influential factor in the bill's passage was the European Court of Human Rights. The supranational tribunal ruled last July that by not offering legal protections to civil unions or marriages by gay couples, Italy was in violation of Europe's human-rights convention.