The Latest Military Offensives Against ISIS
Forces in Iraq and Syria made gains Sunday in their attempts to recapture Islamic-State controlled territory.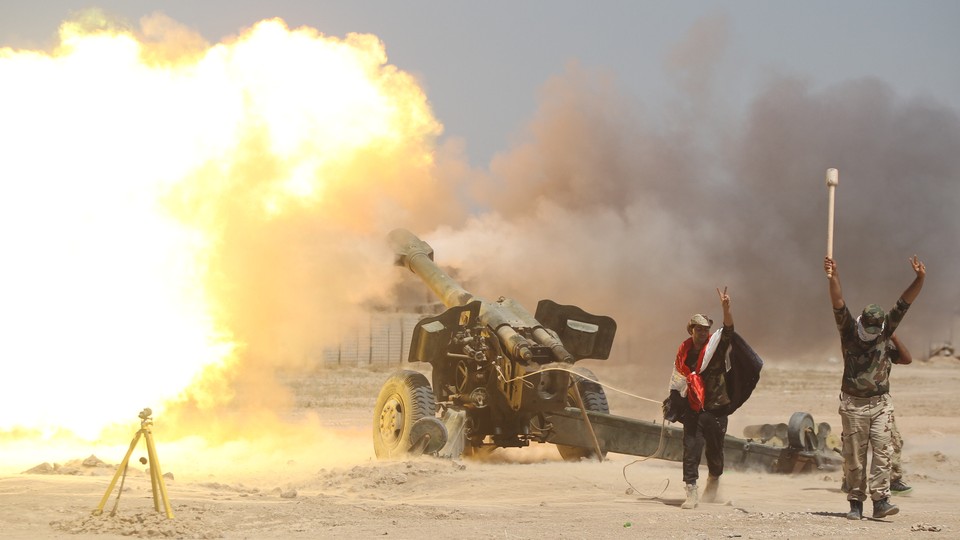 Iraqi security troops, Shia militias, and other forces have nearly surrounded Fallujah one week after they began a military offensive to recapture the city from Islamic State militants.
The forces were stationed outside Fallujah Sunday, and will eventually advance on the city, Reuters reported, citing state media.
Government forces and militias began their approach in the hours between May 22 and May 23, and are backed by U.S.-led coalition air strikes. They have seized some villages and other rural areas this week in their march toward Fallujah. The city, located east of Baghdad,  was the first of several to fall to ISIS in January 2014, six months before the militant group declared a caliphate in Iraq and Syria and Western nations began considering air strikes. The city's 50,000 residents have remained trapped since. At least 3,000 people have fled Fallujah to safety in the last few days, and some have been killed trying to escape, according to humanitarian agencies. The coming onslaught is expected to further endanger the remaining residents.
Iraqi forces on Sunday launched other offensives against ISIS elsewhere in Iraq. Government troops and Kurdish peshmerga fighters attacked ISIS militants in village east of the city of Mosul, which has been under ISIS control since June 2014. U.S. and Iraq officials hope to attempt to recapture Mosul if the offensive in Fallujah succeeds.
Reuters reported Sunday service members from the U.S.-led coalition were present on the front line near Mosul. Fighting appeared "heavy," Reuters said:
Pick up trucks raced back from the frontline with wounded people in the back, and two of the U.S.-led coalition servicemen helped haul one man onto a stretcher.

Gunfire and airstrikes could be heard at a distance, while Apache helicopters flew overhead. One of the villages, Mufti, was captured by mid-day, the Kurdistan Region Security Council said in a statement.
Video footage from reporters on the ground in Saqlawiyah, located north of Fallujah, showed soldiers firing artillery, some wearing long-sleeved camouflage shirts and pants, others in T-shirts.
In Syria, rebels drove ISIS militants out of the the villages of Kafr Shoush and Braghida Sunday, the AP reported. ISIS had swept the villages earlier this week, catching the rebels by surprise.
The U.S. has said ISIS has lost 40 percent of its territory in Iraq and 10 percent in Syria after more than a year of bombing by coalition forces.