Iraq's Unrest
ISIS claimed responsibility for an attack in Baghdad Monday that killed 18 Shia pilgrims.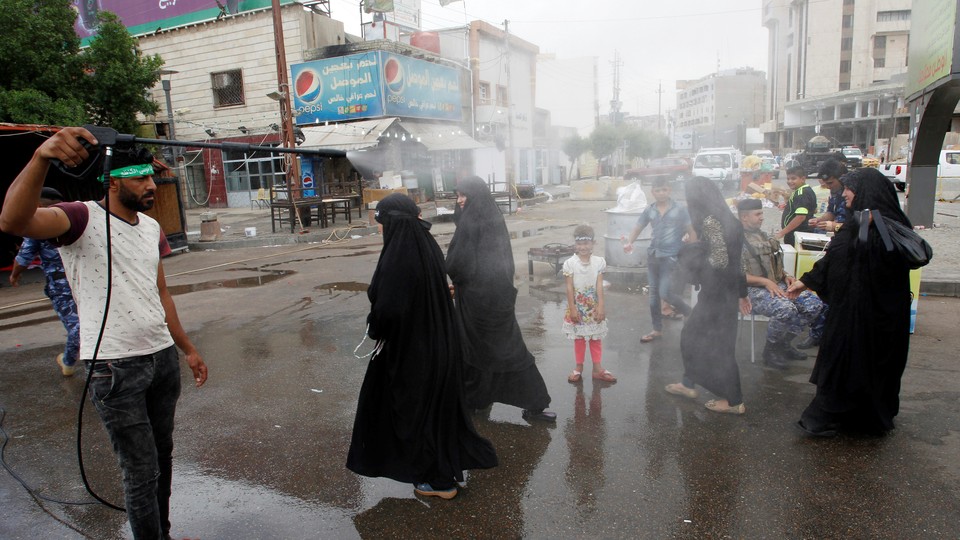 The Islamic State has claimed responsibility for a car-bomb attack in the Iraqi capital that killed at least 18 Shia pilgrims who were marking the death anniversary of a revered 8th century imam.
Here's the Associated Press:
Tens of thousands of Shiite faithful have been making their way this week to the northern Baghdad neighborhood of Kadhimiyah, where the 8th century Imam Moussa al-Kadhim is buried. Security forces have blocked major roads in Baghdad in anticipation of attacks against pilgrims who traditionally travel on foot from different parts of Iraq.
ISIS, whose supporters and fighters follow Sunni Islam, regards Shiites as apostates. Most Muslims around the world are Sunni, but Shiites form the majority in a few places—most notably Iran and Iraq. Monday's attack came a day after two car-bomb attacks in Samawah, about 170 miles south of the Iraqi capital, killed at least 31 people. ISIS claimed responsibility for those attacks, too.
The attacks culminated a weekend of political instability in Iraq. Protesters loyal to Moktada al-Sadr, the Shia cleric, stormed the supposedly secure Green Zone in Baghdad on Saturday and took over Iraq's Parliament. They said they were protesting corruption in the mostly Shia government. The protesters withdrew—temporarily, they say—on Sunday following the ISIS attacks.