More Bombings in Iraq
Multiple attacks in Shia-dominated parts of Baghdad have killed dozens.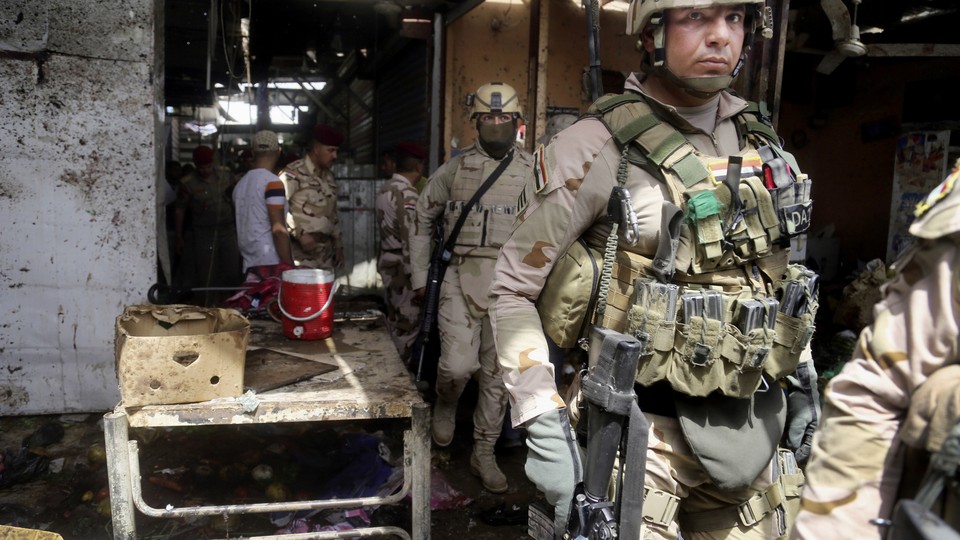 Updated on May 17 at 3:12 p.m. ET
Multiple bombings in Baghdad, the Iraqi capital, have killed dozens and wounded several others, Iraqi officials said. Three of the attacks were on Shia-dominated neighborhoods while the fourth target is mixed.
In the first attack, an explosion hit an open-air market in Shaab, in northeastern Baghdad. Shortly afterward, a suicide attacker targeted those people who were helping the victims in the predominantly Shia neighborhood. In all, at least 50 people were killed, police said. ISIS claimed responsibility.
Next, an explosion struck a market in Dora, a mixed Sunni-Shia neighborhood. At least five people were killed. Then, a car bomb struck Sadr City, the Shia neighborhood, killing 14 people.
Al Arabiya, the Arabic-language broadcaster, has a higher death toll.
Statement: #Iraq's PM @HaiderAlAbadi orders arrest of security official in charge of Baghdad's Shaab neighborhood where at least 34 killed.

— Sinan Salaheddin (@sinansm) May 17, 2016
A similar attack last week on a market in Sadr City killed nearly 100 people, making it the deadliest attack in Iraq this year. ISIS claimed responsibility for that attack and other recent ones around Iraq.