More Fallout From the Iran Sailor Incident
The U.S. Navy relieves an officer of command for his role in the January 12 detention of 10 U.S. sailors by Iranian forces.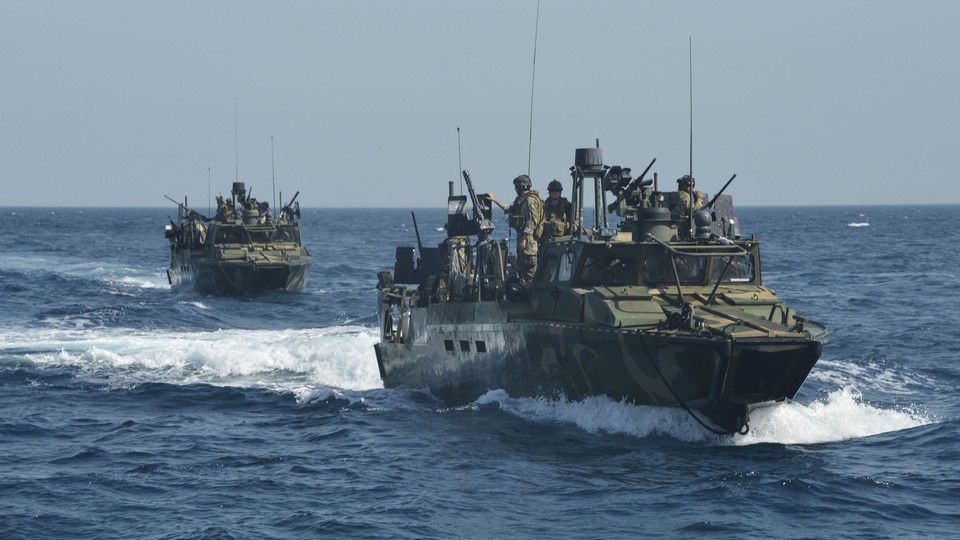 The U.S. Navy announced Thursday it had fired the commander of 10 U.S. sailors briefly detained by Iran in January after their ship entered Iranian territorial waters in the Persian Gulf.
The Navy Times has more:
Cmdr. Eric Rasch, who at the time of the Jan. 12 incident was the executive officer of the Coastal Riverine Squadron 3, was removed from his job by Capt. Gary Leigh, head of Coastal Riverine Group 1, for what a Navy Expeditionary Combat Command release said was "a loss of confidence" in his ability to remain in command.

"Capt. Gary Leigh, commander, CRG-1, made this determination following his review of a preliminary investigation into the incident near Farsi Island in the Arabian Gulf, Jan. 12-13, involving 10 CRS-3 Sailors," the release said. "Rasch was assigned as the executive officer of CRS-3 during this time-frame."

Cmdr. Gregory Meyer, who was commanding officer at the time of the incident, is currently with Coastal Riverine Group 1, and has been put on "administrative hold," meaning the Navy will not transfer him out of the unit, while a high-level review of the Navy's investigation into the incident continues, said two officials familiar with internal deliberations.
Rasch is the first officer formally disciplined for the incident. Navy investigators completed their investigation into what went wrong in April and forwarded their report to top Navy officials. Its findings have not yet been made public.
The incident occurred on January 12, when the sailors were traveling in two small riverine craft from Bahrain to Kuwait through the Gulf. Along the way, they reportedly drifted into Iranian territorial waters, where two Iranian vessels intercepted them and detained the crew. No gunfire was exchanged.
A frantic diplomatic effort between U.S. Secretary of State John Kerry and his Iranian counterpart, Mohammed Javad Zarif, led to the release of the sailors and their boats the following morning.
The timing proved awkward for both countries, with President Obama scheduled to give his State of the Union address on the night of the incident and Iran only days away from receiving long-awaited sanctions relief as part of the nuclear accord it struck with six world powers.