Iceland vs. Tourists
It's not easy fitting 1.2 million annual visitors onto an island of 330,000 residents.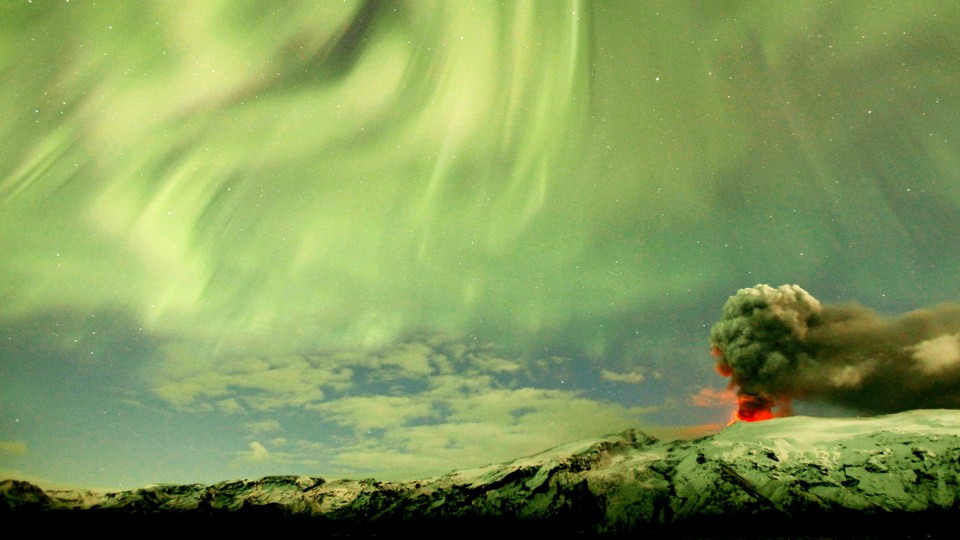 Iceland may be beautiful, but it's dangerously close to full. This is the message currently filtering out from the North Atlantic island as it struggles to absorb unprecedented numbers of visitors. Last year, the nation hosted 1.26 million tourists, a staggering number for a chilly island whose population barely scrapes past 330,000 citizens.
Those numbers are powered partly by a "Game of Thrones Effect" that has seen fans of the TV series flock to its shooting locations. The 2010 eruption of the Eyjafjallajökull volcano, which has since become a tourist attraction, also helped to push up its profile as a vacation spot—perversely so, given that the eruption initially led to 107,000 flights across Europe being canceled. Given the rocky waters the country has been sailing through since the 2008 financial crisis, the revenue brought in by this spike in tourism is no doubt welcome. But the sheer volume of visitors to what was until recent decades a remote part of the world is still causing major stress. So how can Iceland keep welcoming people while making sure it isn't trampled underfoot?
For one thing, there isn't always enough space to put everyone. By January of this year, the country's Nordic Travel Agency was already worrying that Iceland's accommodations would be fully booked all year. In a pattern repeated across Europe, this puts a strain on residents, as accommodations that could be available to locals are rented out to tourists.
The capital city of Reykjavik, whose metro area is home to the majority of the country's population, is building many new hotels, but is facing a set of tourism-related problems familiar to many other cities. Tourist-oriented chains are pushing out long-standing local businesses such as food shops and music venues in the city center, eroding some of the charm that helped to attract visitors in the first place. The number of Airbnb rooms has increased 124 percent in a year, and the residential character of some streets is under threat as vacation rentals proliferate there. There are now 102 flats available on Reykjavik's main street alone.
Problems outside the capital region are more distinctively Icelandic. This is raw-boned, hardscrabble country, both thinly populated and thinly served by public amenities. That's much of its attraction, of course—the idea of having ancient lava fields, raging waterfalls, and mossy ravines more or less to yourself. You're far less likely to be alone nowadays, though, and many of the easier-to-access areas are groaning under the pressure of not being as unfrequented as they once were. Land at some beautiful spots is being trampled by too many feet, while basic facilities such as parking and toilets are limited. This has led to unfortunate incidents that include desperate tourists turning the graves of Iceland's greatest poets into an impromptu bathroom. Less gross but also less forgivable are tourists who drive off-road, damaging fragile landscapes and thus partly ruining the wildernesses that they have traveled so far to witness.
This puts Icelanders in a delicate position. They want to stop tourism's golden goose pooping all over everything, but they don't want to wring its neck. Already some new rules clamping down on tourist accommodations are in place in a few smaller towns that are struggling to cope. The country's tourist board is also trying to lure visitors further afield. One of Iceland's geographic quirks is that its heart is filled by a largely impassable spread of rock and glacier, which means that you need to take the long, coastal beltway to reach the north and east from Reykjavik. Encouraging visitors to travel a little further along this road to such magical spots at the East Fjords could relieve pressure on South Iceland, whose proximity to Reykjavik is putting it under particular strain as an easy, short trip from the capital.
In addition to these little nudges, there are also tougher plans afoot. Iceland is calculating how many visitors key sites like Geysir and the geothermal spa at the Blue Lagoon can manage, and may then create caps limiting further access to the sites. The country is also considering a blanket tourist tax to be added on top of all fares to the country as a way of scraping back some money to put into better tourist infrastructure. This might deter a few budget travelers, but with Iceland's tourist numbers expected to reach a peak of 1.3 million visitors this year, that's arguably a price worth paying to keep the country they're coming to see in good condition.
---
This post appears courtesy of Citylab.