The Final Resting Place of the Lord Sandwich (or HMS Endeavour)
The Rhode Island Marine Archaeology Project said it knows the location of British explorer Captain James Cook's famous vessel.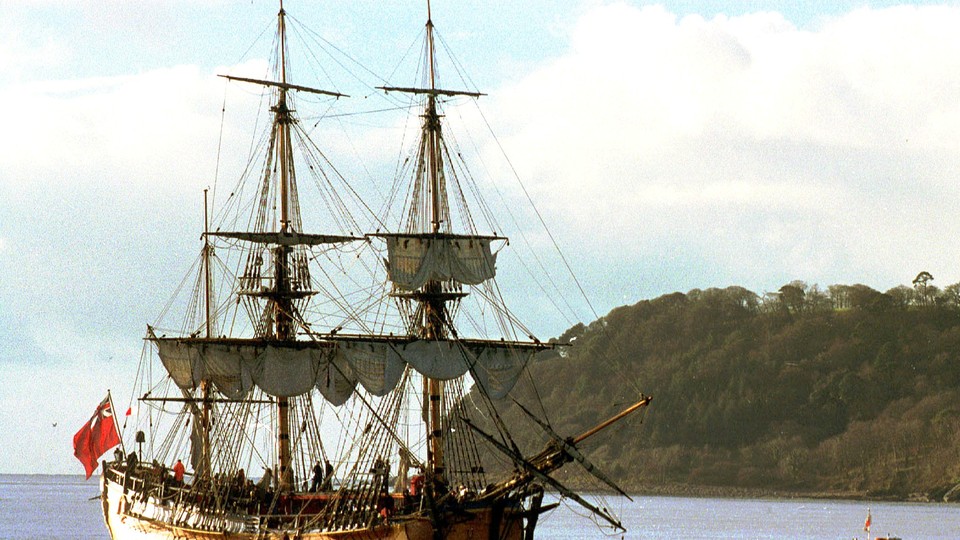 By the time it was lost, HMS Endeavour had been conscripted into the American Revolutionary War and renamed. Years before, the British explorer Captain James Cook had sailed the 100-foot oak ship on his first voyage to Australia.
After Cook's first voyage, the Endeavour was largely forgotten. While searching for Australia, Cook wrecked the ship into a coral reef, so upon return to England, workers at a dockyard refitted it as a naval transport. Cook got a new ship. Meanwhile the Endeavour delivered provisions to the Falkland Islands in 1772, was sold in 1775, then renamed the Lord Sandwich, and unceremoniously, and purposefully, sunk in 1778 in the shallow waters of a Rhode Island harbor to block advancing French ships that'd come to help the Americans. And there the Lord Sandwich still lies.
On Tuesday, the Rhode Island Marine Archeology Project (RIMAP) said it will announce it has found the locations of five downed ships in Newport Harbor, one of which is the Endeavour. RIMAP said in a statement it will:
… outline what must be done in the future to determine which of the 5 sites there is which ship. The next phase of the archaeological investigation will require a more intense study of each vessel's structure and its related artifacts. However, before that next phase may begin, there must be a proper facility in place to conserve, manage, display, and store the waterlogged material removed from the archaeological sites. Therefore RIMAP has begun the capital campaign to create the facility to satisfy those technical requirements and allow the intense archaeological fieldwork to begin.
The announcement is scheduled for Wednesday, May 4, which also marks the 240th anniversary of when the General Assembly of the Colony of Rhode Island declared its independence from Great Britain––meaning it did so a full two months before the rest of colonies (though Rhode Island was last to ratify the U.S. Constitution). And while for Americans, the Lord Sandwich served the redcoats, Cook, whose ship it originally was, would also discover Hawaii, the last state to join the country. (He'd also die in what he had named the Sandwich Islands.)
The Endeavour also holds special significance for Australians, because of the connection with Cook. Indeed, the Australian National Maritime Museum donated money to RIMAP, which allowed it to search for the historic documents in London that would later identify the Lord Sandwich as one of the downed ships in the harbor. In all, the British purposefully sunk 13 ships in Newport Harbor to blockade French boats. The Lord Sandwich, and thus Captain James Cook's Endeavor, is thought to be one.