Germany Keeps Finding World War II-Era Bombs
Bomb-disposal experts have defused a U.S. explosive discovered at the airport in Hannover.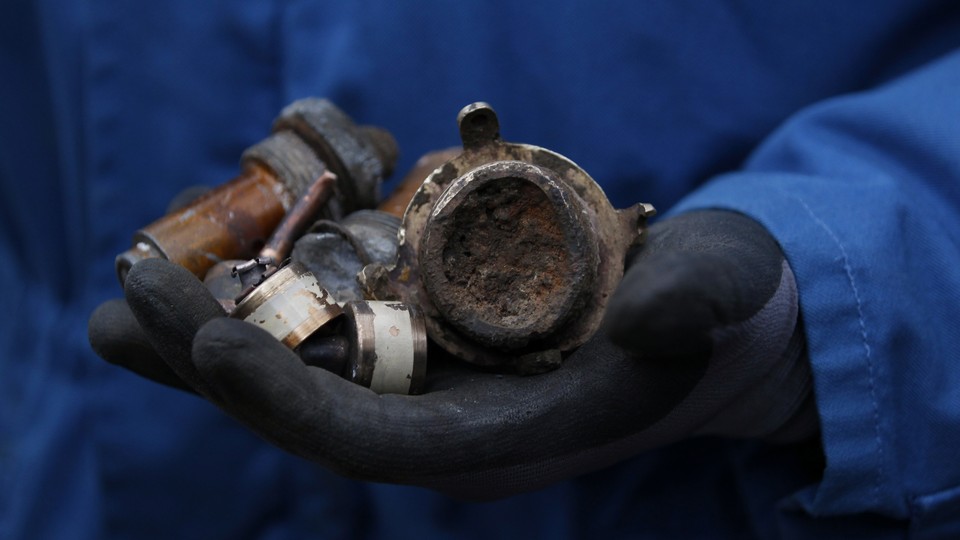 Bomb-disposal technicians have discovered and defused a World War II-era bomb at the airport in the German city of Hannover, forcing more than 50 flights to be diverted to other airports.
The 551-pound American bomb was unearthed Sunday after experts conducting tests of soil in an area due for pavement resurfacing detected some magnetic interference, the AP reported. The explosive had remained untouched for more than 70 years.
Long after World War II ended, German authorities are still finding and deactivating unexploded bombs, mines, and other munitions throughout the country. Allied countries dropped nearly 2.7 million tons of bombs during the war. Nearly half of those came from American and British air forces and fell on Germany. To this day, hundreds of tons of undetonated ordnance are uncovered on German soil every year.
The decades-old bombs are often found during construction or excavation operations, and their careful detonations can require large evacuations. In December 2011, half of the population of Koblenz—about 45,000—was evacuated as bomb-disposal experts spent three hours deactivating two bombs, one American and one British, discovered in the riverbed of the Rhine river during a dry spell. In August 2012, 2,500 people in Munich were evacuated near a bar set to be demolished after workers discovered a U.S. bomb. In May 2015, 20,000 Cologne residents were forced to leave their homes because of a bomb found while crews prepared for the construction of a pipeline.
In 2006, a worker was killed when he unknowingly cut into a bomb under a highway in Frankfurt. But the explosives pose a greater threat to bomb-disposal technicians, who routinely defuse bombs. In June 2010, a bomb in Göttingen suddenly detonated, killing three technicians an hour before they planned to carry out a controlled explosion of the device. A member of the bomb-disposal unit Kampfmittelbeseitigungsdienst, or KMBD, told Smithsonian magazine's Adam Higginbotham in January that his team deactivates an aerial bomb "every two weeks or so."
Some German cities have it worse than others. From Joshua Hammer in The Atlantic in 2011:
Nowhere is the ordnance-cleanup effort more fraught than in Oranienburg, a city just north of Berlin. Once the site of a wartime aircraft plant, an SS arms depot, a railway junction for trains to the eastern front, and a research facility for Hitler's atomic-bomb program, the town was flattened by 10,000 Allied bombs dropped in 1944 and 1945, according to the KMBD. Almost all of these bombs were equipped with delayed-action detonators. "The Americans and British wanted to make as much difficulty as possible for people trying to clean up and to reconstruct the industry there," Wilfried Krämer, the director of the KMBD, told me. "The fuses would detonate at all different times." Indeed, some have yet to go off. Using aerial maps from the British and American military archives, the KMBD has pinpointed and defused 159 unexploded bombs in Oranienburg since 1991. Krämer estimates that another 350 to 400 unexploded bombs still lie buried in the city. "We will be working for another generation," he says.
Tens of thousands of devices are believed to remain buried throughout the country.