The Wave of Protests and Strikes in France
Demonstrators campaigning against the government's proposed labor reforms clashed Thursday with police in cities across the country.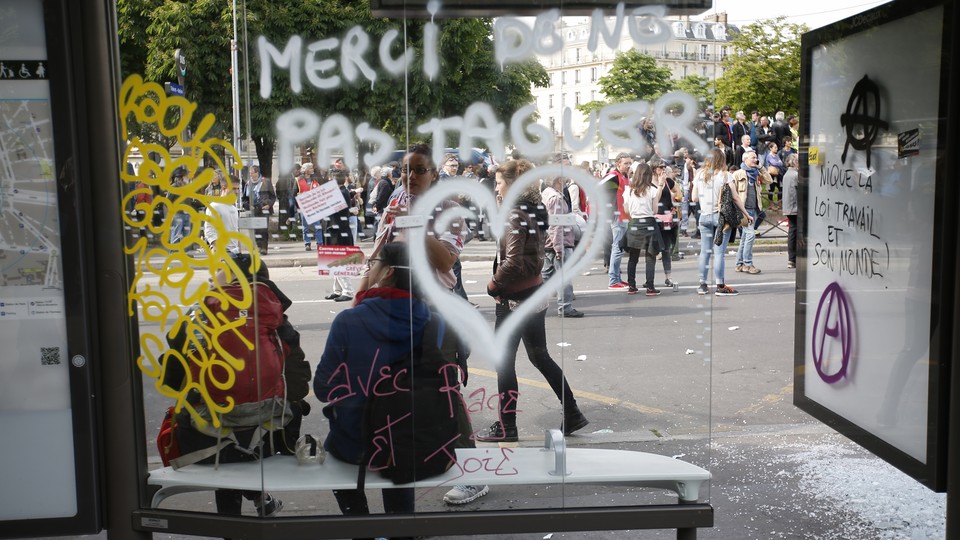 Tens of thousands of labor-union supporters took to the streets in cities across France Thursday to protest the government's proposed reforms aimed at reducing the country's high unemployment rate and boosting economic growth.
Protesters carried signs and chanted "all together!" and "strike!" in widespread demonstrations against President François Hollande's new law, which would make labor laws more flexible in an attempt to curtail unemployment, which dipped below 10 percent this month for the first time in more than two years. Hollande's government says the overhaul would lead to more hires. Union members oppose the law, saying it would weaken protections for workers.
The debate over the reforms has sparked many protests this month, some of which have turned violent. The Place de La Nation, a major square in Paris, was transformed Thursday into a scene of chaos as protesters clashed with police. In this video from someone present, one protester attempts to stop a moving police van:
Police deployed tear gas against the crowds. Some demonstrators came prepared, wearing surgical masks over their noses and mouths. Others smashed windows of storefronts. In this video from France 24 reporter Claire Williams, some protesters throw homemade explosives:
Dispatches and videos from the protests assembled on Twitter under #manif26mai, which translates to "protest" and the date May 26. Police estimate between 18,000 and 19,000 people turned out in Paris, while the Force Ouvriere, one of the major unions in France, said 100,000 were present, according to France 24.
Earlier this month, Hollande used executive power to push the measure through the National Assembly without a vote. The Senate will consider it in mid-June. French Prime Minister Manuel Valls said the government could consider some "modifications" to the labor law, but said the core of the legislation would not change, The Washington Post reported Thursday. "There will be no retreat," Valls said.
The backlash against the labor law spans the France's energy, oil, and transportation sectors. Nearly 15 percent of the workforce of the country's national electricity provider are on strike, protesting the same labor law, the AP reported Thursday. Workers at oil refineries and nuclear plants are also on strike, which has led to shortages at about 20 percent of gas stations in the country. Just two of the country's eight oil refineries are working normally, France 24 reported Thursday. Port and dock workers, rail workers, airport technicians and engineers,  and air traffic controllers, have all staged strikes this week.
The Place de La Nation had returned to normal by day's end Thursday, according to reporters on the ground. But new waves of demonstrations are expected through next month as Hollande's labor reforms move through parliament.