Fort McMurray Wildfire: 'The Beast Is Still Up'
A local fire chief in Alberta says things have "calmed down," but firefighting efforts are still on.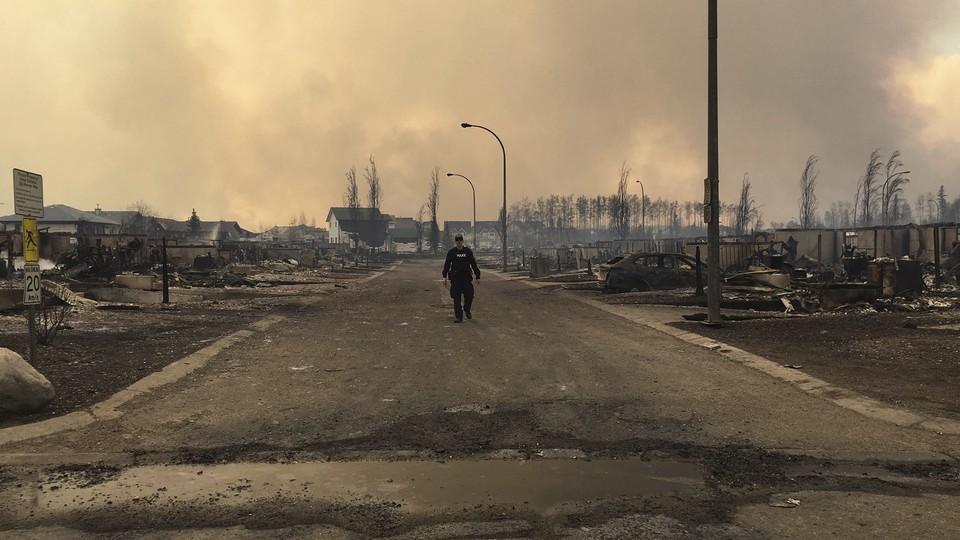 Residents of communities north of Fort McMurray, Alberta, that have been evacuated because of the massive wildfire threatening the region are moving Friday to safety in the south as part of a convoy led by the Royal Canadian Mounted Police.
The Edmonton Journal reports:
Mounties plan to escort the estimated 1,500 vehicles, 50 at a time, south through the city on Highway 63. The convoy will continue for another 20 kilometres south and then the RCMP will release the vehicles.
The wildfire that forced the evacuation of Fort McMurray, a city of 80,000 people, has died down, a local fire chief said in a video posted online on Thursday night. But, he said, firefighting efforts were still on, and "the beast is still up."
By Thursday, the wildfire covered 850 square kilometers (328 square miles), an area larger than Edmonton, Alberta's biggest city. Rachel Notley, the premier of Alberta, said Fort McMurray, the oil boomtown that has been hardest-hit by the blaze, was badly damaged and the city was unsafe for residents.  She declined to put a timeline on when residents could return.
"We do know," she said, "that it will not be a matter of days."