The 'Extreme' Wildfires in Fort McMurray
The government in Alberta said Thursday a total 49 wildfires are burning in and around the Canadian city.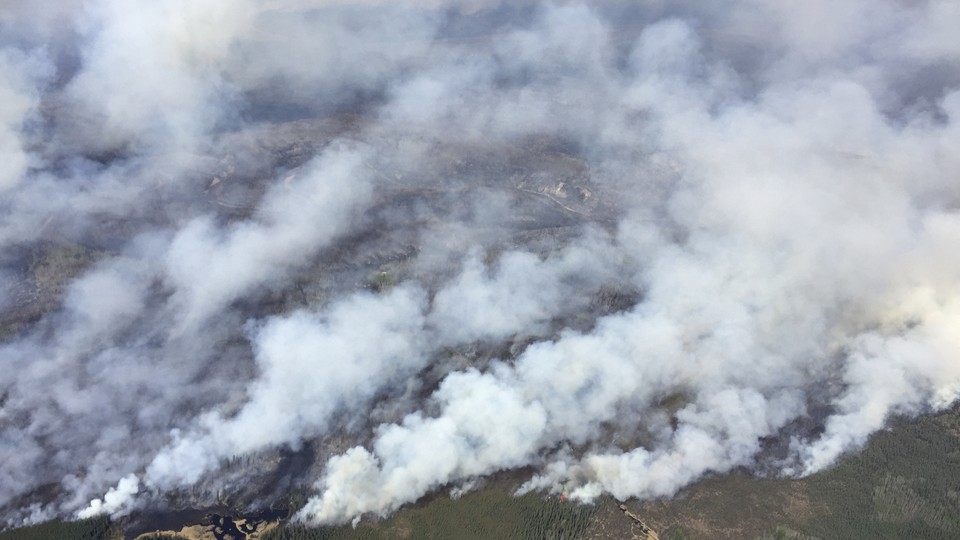 Wildfires in the Canadian province of Alberta this week have engulfed thousands of homes, forced the evacuation of an entire city, and spewed smoke and ash into the air.
Fire conditions remained  "extreme" on Thursday, Alberta's government said in a statement. A total 49 wildfires are burning, with seven considered "out of control." Twenty-three of the fires have been contained. Eighteen new blazes have started since Wednesday.
A small blaze began in Fort McMurray, located in Canada's oil-sands country, over the weekend. Dry conditions and a sudden spike in temperature to 32 degrees Celsius, or about 90 degrees Fahrenheit, fed the flames, which by Tuesday had become too severe to control. The Regional Municipality of Wood Buffalo, where Fort McMurray is located, ordered a mandatory evacuation of the city Tuesday night. About 88,000 people have evacuated Fort McMurray since.
The exodus clogged the only major highway that connects Fort McMurray to the rest of the province. Thousands of people flocked to Highway 63, fleeing as Alberta's boreal forests burned next to them, before the highway was closed:
Two people were killed in a two-vehicle collision Wednesday on neighboring Highway 881 as they evacuated the city, CBC reported.
More than 1,110 firefighters, 145 helicopters, and 22 air tankers are fighting the blaze, Alberta's government said. The flames cover at least 10,000 hectares, or about 24,710 acres.
Officials have ordered mandatory evacuations for Anzac, Gregoire Lake Estates, Fort McMurray First Nation, small communities to the south of Fort McMurray, and Mackenzie County, located northeast of the city. All residents of Anzac and Gregoire Lake Estates were evacuated by early Thursday, officials said. Alberta's health department has issued an air-quality advisory for the Fort McMurray area.
The clouds of smoke have made it difficult for Canadian authorities to survey the damage. Officials said Thursday some of the older buildings at Fort McMurray International Airport were destroyed, but that new facilities were not damaged. The statues of Anzac and Saprae Creek, a hamlet west of Fort McMurray, were listed as unknown in the latest update from the Regional Municipality of Wood Buffalo.
The municipality attempted to answer questions of concerned Albertans on Twitter:
I don't have any more details, I'm sorry RT @_Trevveh: is there any update on Blackburn Drive? A lot of people were wondering.

— RMWB (@RMWoodBuffalo) May 5, 2016
The Fort McMurray evacuation is one of the largest in Canadian history. Warm temperatures are expected in the area this weekend, which could help the wildfires grow.