The Fire Returns for Fort McMurray
As the winds shifted the blaze, government officials ordered the evacuation of oilfield workers near Fort McMurray.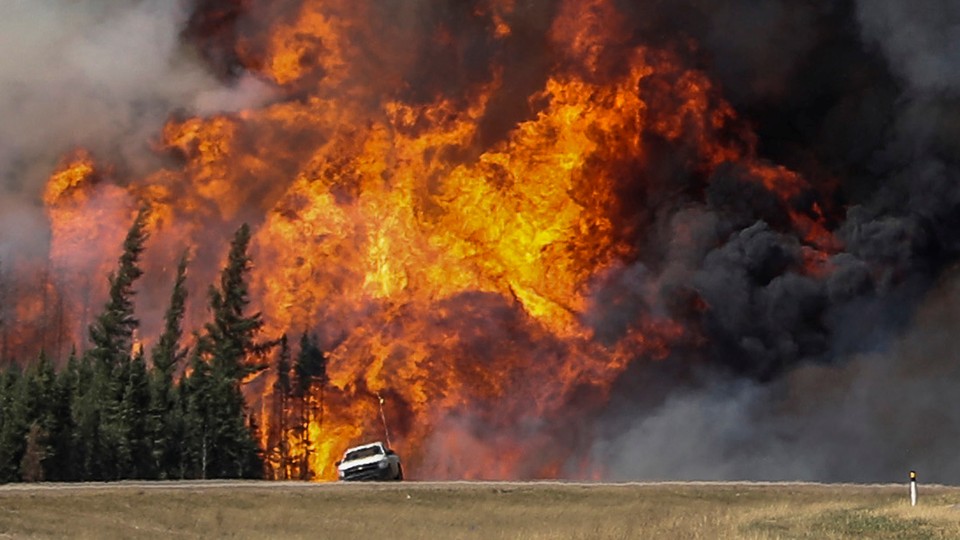 The winds that once pushed the fire near Fort McMurray away from the city have shifted, and on late Monday night city officials ordered the evacuation of 8,000 workers at oil camps just north of the town.
Around 10 p.m., government officials said the fire had redirected north, not immediately endangering the town again, but risking the oil fields and workers just miles from Fort McMurray, which for the past two weeks has seen all of its nearly 90,000 residents evacuated. The two largest oil-sands projects nearby are run by Syncrude Canada and Suncor Energy, and both said shortly after the announcement that they'd pull their workers out of the area. The fire burned about 30 miles away from the city. Much of the trees and possible fuel it could catch near town have already burnt, and Fort McMurray is largely protected by a buffer of ash and char.
At a hastily-called news conference, CTV News reported, city officials said:
"The urgency that we are looking at is with regards to the oil and gas infrastructure," said Scott Long of the Alberta Emergency Management Organization at a briefing earlier Monday evening.

"Everything within Fort McMurray itself, the community, all controlled, orderly. There is no panic there."

John Archer, a spokesman for the Alberta government, stressed the move to get people out - many were headed to Edmonton - was being done in an orderly fashion.

"By and large, I believe the fire has not encroached too much more upon Suncor or Syncrude, but the reason why the call was made (Monday night) is so they're not starting an evacuation at 2 a.m.," he explained.
Although the town is considered safe because of how bad it's already been burned, the fire now spans 700,000 acres, and was moving Monday at more than 100 feet per minute.
Between 100 and 200 firefighters were working the blaze. About 300 utility workers trying to restore power and another 300 people who'd come to help the town recover all took shelter in the hospital. By early evening, the fire burned just 12 miles from the two major oil camps. The blaze had also jumped a firebreak officials had thought would head it off.