The First Glimpses of Devastation in Fort McMurray
The wildfire that forced 88,000 people to evacuate destroyed some neighborhoods, while leaving others untouched.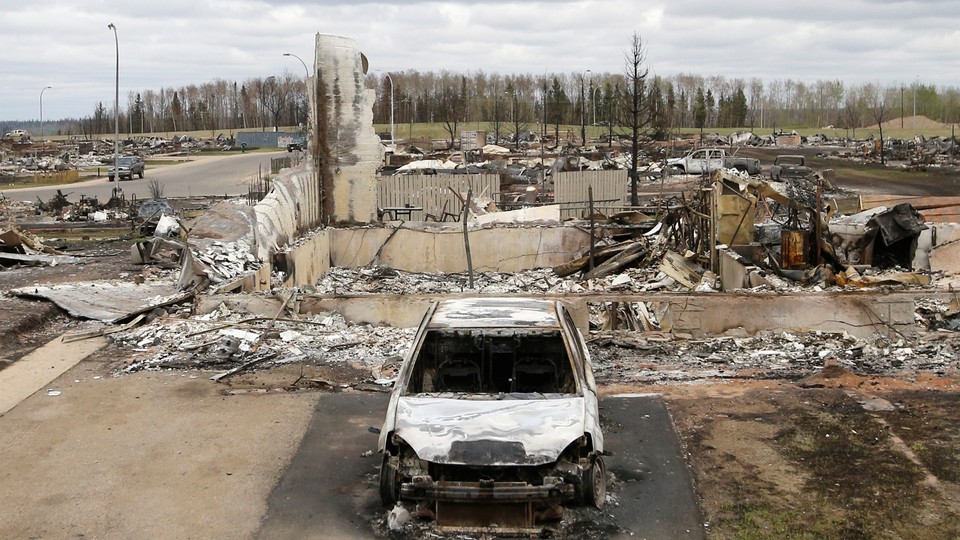 Reporters toured the fire-ravaged Canadian oil city of Fort McMurray on Monday, offering the first glimpses of the destruction after 88,000 people fled a massive wildfire.
A bus guided by Fire Chief Darby Allen carried journalists through the city, and it was clear some areas were lost, while others were normal—except for the absence of life. The fire destroyed Beacon Hill, one of Fort McMurray's oldest neighborhoods. The homes there were charred to the basements; the cars hulks of bare metal atop melted tires.
As reporters toured, Allen played the role of tour guide, and the Edmonton Journal reported:
"This was a beast, an animal, it was like a fire I've never seen in my life," said Allen who has proven to be as skilful with the media as he is with a wildfire.

"As we go around this bend, if you look out the right hand side you'll see the Ptarmigan Trailer Park," he said as he pointed to the unlucky trailer park that was in the news in 2013 after being hit by a flood. "The Ptarmigan Trailer Park was completely decimated by the fire."

And then we were in the downtown area. Other than the occasional wisp of acrid smoke, there was no evidence one of Alberta's most destructive wildfires had paid a visit to the city. Restaurants, car dealerships, and office buildings all sat safe and unmolested, if eerily deserted.

That wasn't due to luck, said Allen. It was due to guts, to the courage of firefighters who did their best to keep the "beast" at bay.
Despite the massive devastation, about 90 percent of the city's homes were left untouched by the flames, as was much of downtown.
Alberta fire officials say the fire, which is now headed east toward Saskatchewan, may takes months to extinguish. The fire covers nearly 400,000 acres, or about 16 times its original size, largely thanks to strong winds. More than 1,500 firefighters worked to contain the the blaze, and the evacuation of Fort McMurray is being called one of the largest in Canadian history.