A Canadian Oil Boomtown Flees a Wildfire
A massive blaze that's caused thousands to evacuate a city in Alberta has been called the worst in the region's history.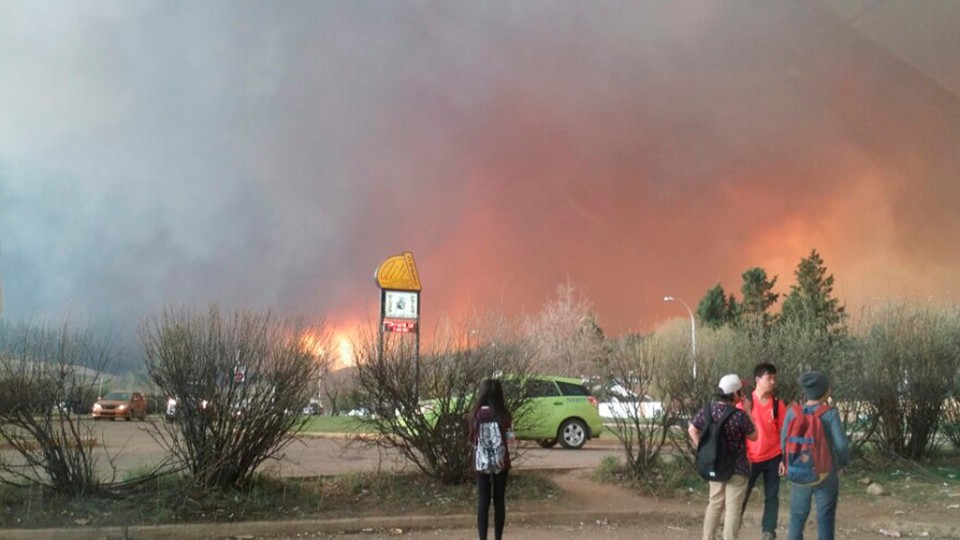 A massive wildfire in the Canadian city of Fort McMurray forced nearly all of its 80,000 residents to evacuate. Officials called in the military to help, and it's already said to be the worst fire in Alberta's history.
The fire was expected to grow even larger Wednesday, and already much of the town has fled to evacuation sites. On Tuesday evening, cars clogged the highways; the overwhelmed airport canceled flights because of the smoke; and nine air tankers, a dozen helicopters, and about 150 firefighters tried to beat back the flames.
The Edmonton Journal reported.
The very feature that gives Fort McMurray its beauty — the boreal forest that rings the city and runs up against its businesses and homes — makes forest fires a dangerous matter. The Athabasca River, a wide body of water that divides the city, failed to provide fire break Tuesday and flames leapt from the south bank to the north side of the river.

…

Traffic was bumper-to-bumper as people packed families and pets into cars, trucks and campers. Line-ups snaked around gas stations and late in the evening, RCMP were advising they would travel the highway with gas to assist stranded motorists.

MacDonald Island, the initial evacuation site in Fort McMurray's downtown for residents in affected neighbourhoods, itself had to be evacuated.

And camps to the north of Fort McMurray where evacuees were being directed, such as the Noralta Lodge, reported they were filling up Tuesday evening.
A smaller fire had started on the weekend, and burned just southwest of the city. By late Monday, it'd grown to 6,500 acres. Tuesday's warmer temperature and shifting high winds blew it toward the city until it jumped highways and the wide body of the Athabasca River toward Fort McMurray's downtown. There have been no fatalities; a baby was born at an evacuation site.
Fort McMurray is in Canada's oil-sands country. The booming oil industry made the city's population swell, but with oil prices down in recent months, the area has been hit hard. The region has had a warm, dry year, and Alberta could be in for a dangerous fire season.