Fort McMurray's Fires and the 'Dramatic Images' To Come
Hundreds of firefighters continue to battle a blaze that forced thousands of Canadians from their homes last week.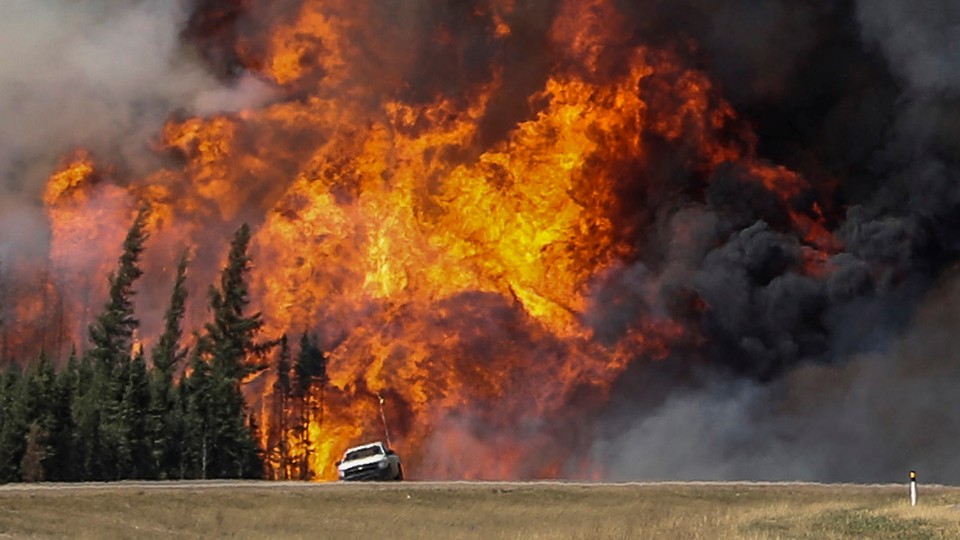 Nearly a week after wildfires forced 88,000 people from their homes in Fort McMurray, hundreds of firefighters are still working to contain the growing blaze in and around the Canadian city in Alberta.
The Alberta government said in a statement Sunday that fire conditions remain "extreme," with a total of 34 wildfires burning in the province. The blaze now covers 161,000 hectares, or about 398,000 acres—16 times its original size last week.
Dry conditions and high temperatures stoked the flames over the weekend. The forecast this week predicts cooler temperatures, with highs around 13 degrees Celsius, or about 55 degrees Fahrenheit. But the area badly needs rain to help quell the flames. The Regional Municipality of Wood Buffalo, where Fort McMurray is located, celebrated a brief rain shower Sunday morning:
Several government officials, Fort McMurray's fire chief, and reporters traveled to Fort McMurray Monday to survey the damage. Rachel Notley, the premier of Alberta, warned Sunday that "there will be some dramatic images coming from media over the next couple of days," CBC News reported. "I want to reiterate mental-health supports are available for anyone who needs help," she said at a press conference.
Winds blew the fire east on Monday, away from the city and toward Alberta's border with Saskatchewan, according to CBC News. The flames are located more than 30 kilometers, or about 19 miles, from the border.
More than 1,500 firefighters are working to contain the wildfires across the province, according to Alberta's government. Only emergency responders and disaster-relief workers are being allowed into Fort McMurray.
The Fort McMurray evacuation is one of the largest in Canadian history. The city's residents are scattered across 12 centers in the province, where they have received food, water, clothes, and bedding. Alberta's government said it will soon offer debit cards pre-loaded with $1,250 to adult evacuees.
Officials do not yet know when residents will be able to return to Fort McMurray. They have encouraged displaced parents to register children in other schools. Alberta's culture and tourism office has waived admission fees at the province's historic sites and museums for evacuees until September.
---
Related Video