FC Barcelona's Reclaimed Flags
A judge overruled Spanish authorities' ban of a flag that signifies Catalan independence.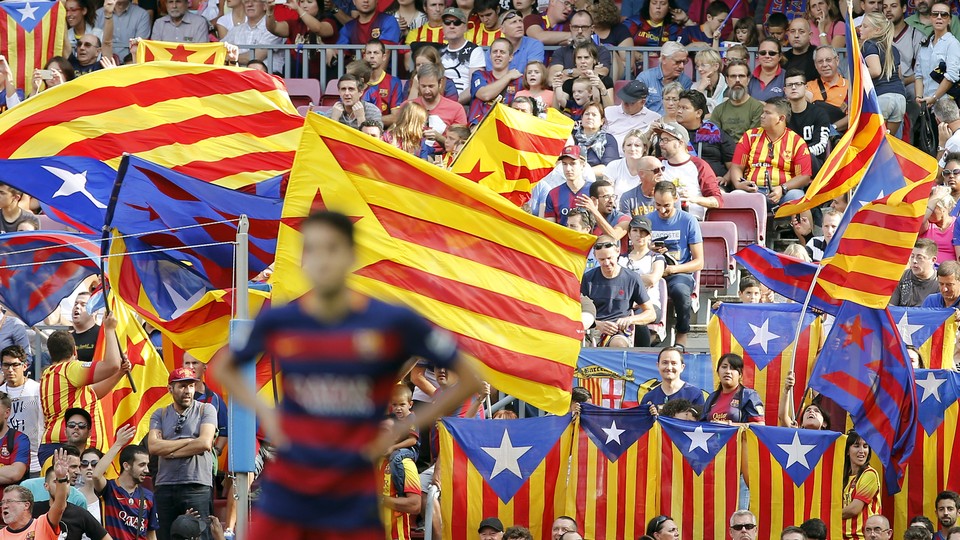 Just two days before the Copa del Rey final in Madrid, a Spanish judge overturned a ban on fans bringing flags that represent Catalan independence to the soccer game.
Madrid authorities, sensitive to Catalonia's plans to break away from Spain by 2017, had previously banned the Estelada flag from the Copa del Rey, or King's Cup, arguing it would lead to a politically charged atmosphere. The red- and yellow-striped flag with a white star and blue triangle had been a symbol for the independence movement and a favorite of FC Barcelona fans, who will watch their team face off against Sevilla on Sunday.
The club, located in the Catalan capital, appealed the decision, successfully arguing for free speech. As The New York Times reports:
The ban had outraged Catalonia's leading politicians, who vowed not to attend the match at Vicente Calderón Stadium in Madrid to protest what they described as a blatant attack on freedom of expression. After the judge's decision on Friday, however, Carles Puigdemont, head of the Catalan regional government, said he would go to Madrid to watch the match.

The judge rejected the public prosecutor's argument that waving a politically charged Catalan flag could lead to serious public disturbances, or even violence.
In a statement, FC Barcelona said it was satisfied with the decision, but expressed "its concern about the reoccurrence of situations like the one on Wednesday, and which are an affront to the freedom of expression, and do nothing to benefit what has always been a celebration of football and sport."
Now, the 19,000 expected Barcelona fans will be able to wave their Estelada flags, while also likely jeering and whistling at the Spanish national anthem and King Felipe VI, as they did at last year's Copa del Rey.