The Battle Against ISIS in Fallujah Begins
Iraqi forces and other militias have started an offensive to recapture the city from the militant group.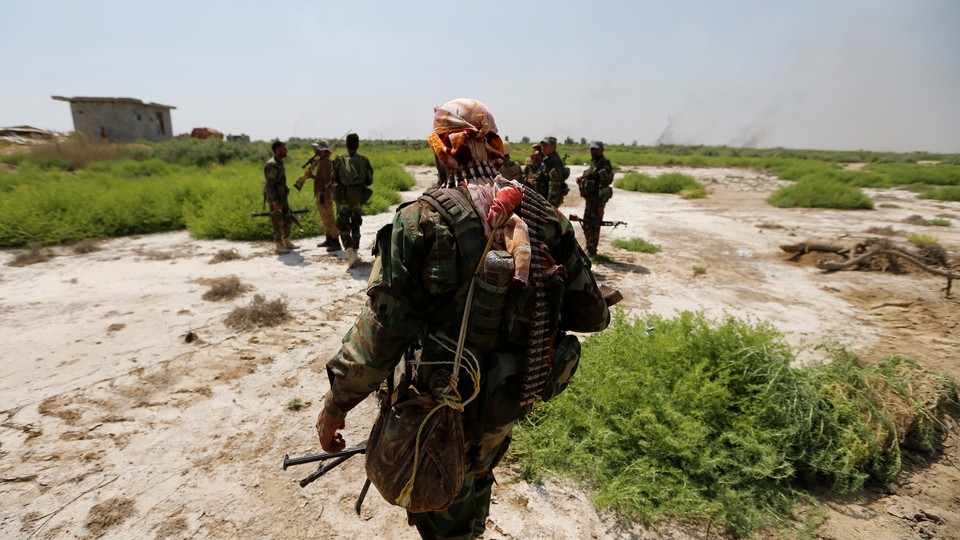 Iraqi government forces, backed by U.S. and coalition airstrikes, have launched a military offensive to recapture Fallujah from Islamic State militants who overran the Iraqi city more than two years ago.
The battle for the city, located east of Baghdad, began overnight Sunday, Iraqi Prime Minister Haider al Abadi said in a televised announcement. The offensive includes Iraqi troops, police, and Shia militias.
Reuters reporters in Baghdad described the fight on Monday:
Some of the first direct clashes occurred in the area of al-Hayakil on Falluja's southern outskirts, a resident said. Iraqi troops also approached the northern suburb of Garma, the top municipal official there said, to clear out militants before turning their attention toward the city center.

Air strikes and mortar salvoes overnight targeted neighborhoods inside the city where Islamic State is believed to maintain its headquarters. The bombardment had eased by daybreak.

Seven civilians and two militants were killed in the shelling, while 21 civilians and two militants were wounded, a source at Falluja's medical center said.
The number of fatalities is expected to rise. No casualties among Iraqi troops were reported Monday, according to Reuters.
Fallujah was the first of several cities in Iraq to fall to ISIS in 2014. The Islamist militant group has controlled the city since January of that year. That summer, the group declared a caliphate covering large parts of Iraq and Syria.
In December 2015, Iraqi troops and the U.S.-led coalition regained control of Ramadi, the Iraqi city that had been under ISIS control for about six months. U.S. and Iraqi officials hope next to attempt to retake Mosul, a city north of Fallujah. ISIS took control of Mosul in June 2014.
In the early aughts, Fallujah served as a stronghold for the Iraqi branch of al-Qaeda. In 2004, 100 American troops were killed and 600 were injured in Fallujah in a six-week battle against al-Qaeda insurgents during in the Iraq war.