The Record-Setting Climb Up Everest, Set by a Convenience-Store Cashier
Lhakpa Sherpa reached the top of Mount Everest for the seventh time on Friday, breaking her own record for most ascents by a woman.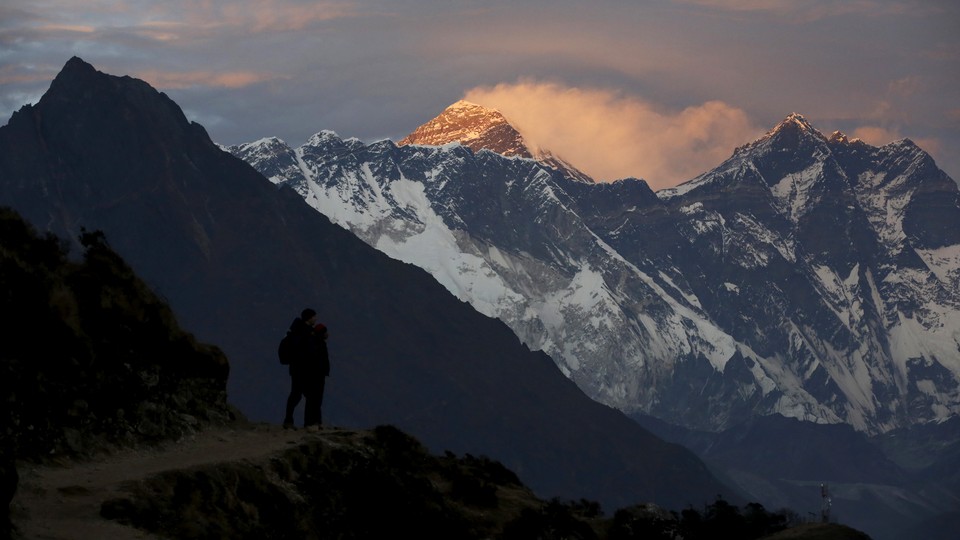 A Nepalese woman who lives in Connecticut climbed to the summit of Mount Everest on Friday, and broke the record (previously held by her) for the most ascents by a female of the world's highest peak.
Lhakpa Sherpa had previously climbed Everest six times between 2000 and 2006, but she is little known, even in the climbing world. Even more surprising is the world's most successful female climber works at a 7-Eleven in West Hartford to get by. A fascinating profile from Outside magazine, written before she summited the mountain Friday, reads:
In 2000, she became the first Nepalese woman to summit Everest and make it back down alive. In 2010, she made it to camp 3 on K2 and spent two days there before the weather forced her to descend.

Yet few people are aware of her mountaineering exploits. The Wikipedia page that catalogs Everest records contains listings as specific as "first twins to climb Mount Everest together," but there's no mention of Lhakpa. A 2013 ESPN.com article on five-time Everest summiter Melissa Arnot mentioned Lhakpa as an aside, calling Arnot "either the most accomplished female Everest climber ever, or the most accomplished non-Sherpa woman. (A Nepali named Lhakpa Sherpa is said to have from four to six Everest summits.)"
Sherpa is 42 years old, and she reached the 29,000-foot peak Friday with 17 others.
Part of her obscurity likely comes from the climbing industry's relative disregard for her community's accomplishments. She is part of the Sherpa ethnic group in the Himalayan mountains. The name has three uses: as an ethnic group; as a job, because these people often works as "sherpas," carrying climbing gear and prepping routes; and as a last name. Many times, as the Outside profile pointed out, their accomplishments are not recognized individually, but as a collective.