When Nativism Becomes Normal
The refugee crisis in the Dominican Republic and Haiti shows the human consequences of extreme anti-immigration policies—and how voters get used to them.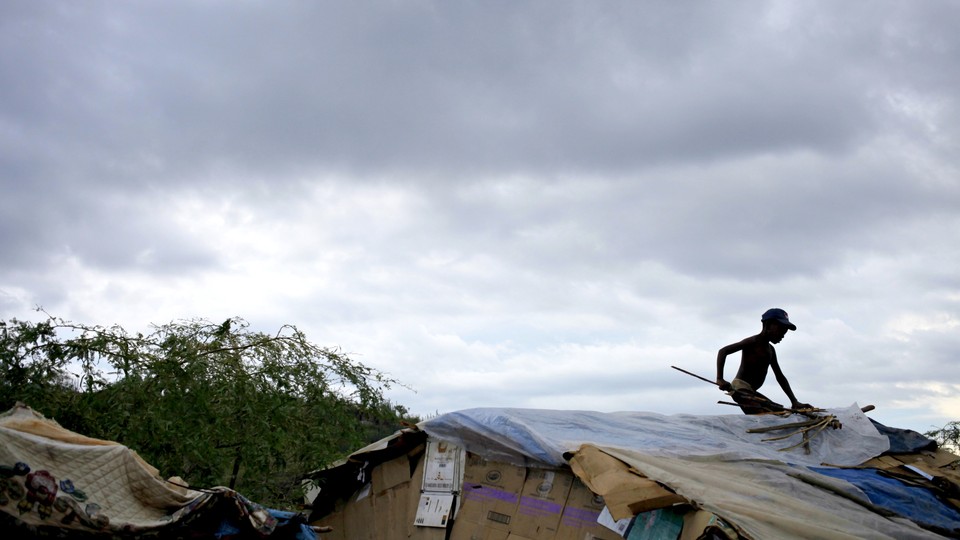 An unprecedented refugee crisis, economic inequality, and fears of terrorism are helping stoke the rise of extreme anti-immigrant politicians across Europe and the United States. Hungary's Viktor Orban, France's Marine Le Pen, Austria's Norbert Hofer, and yes, Donald Trump, are riding a much-remarked surge in popular support, with Hofer just losing his presidential bid by a razor-thin margin. All have embraced extreme nativist rhetoric, but meanwhile a different nationalist experiment is already running its course, and uprooting thousands on the basis of their ancestry, under a leader who is by most accounts a moderate technocrat. And the Dominican Republic's President Danilo Medina just claimed a landslide reelection victory.
Medina is no fiery demagogue. He's bespectacled and mild-mannered. His politics are centrist, his economics neoliberal, his public appearances reliably chaste. Medina's administration, which began in 2012, has presided over what's now one of the fastest-growing economies in Latin America. It raised the minimum wage, increased funding for welfare programs, reduced crime, and built 2,500 new schools—all of which could make it easy for Dominicans to overlook having the largest stateless population in the Western Hemisphere in their backyard.
The crisis—in which thousands of Dominicans of Haitian descent have been stripped of their citizenship and "repatriated" to Haiti—exposes the photo-negative relationship between the two countries sharing Hispaniola, an island about the size of West Virginia. In 1960, the Dominican Republic and Haiti were utterly comparable: two plantation societies, both former European colonies. Real per capita GDP was the same in both, at just below $800 annually. Both countries suffered under brutal strongmen. In Haiti, development was neglected by the Duvaliers, the father-son dynasty that ruled from 1957 to 1986. Across the border, the Trujillo and Balaguer regimes, which ruled on and off from 1930 to 1994, promoted Dominican agriculture, industry, and public works (while otherwise consolidating a crony plutocracy). By 2005, the Dominican Republic's GDP had more than tripled. Haiti's had halved. The Dominican Republic is now considered a middle-income country, and Haiti is the poorest country in the Western Hemisphere.
The contrast is visible from many points along the 234-mile border dividing Hispaniola. To the east, lush green forest cover is irrigated for the Dominican Republic's banana farmers. To the west it's almost sepia-toned: Vast tracts of land have been cleared for charcoal, Haiti's primary cooking fuel, resulting in arid soil and sediment-loaded rivers.
Antihaitianismo is as old as the Dominican Republic, which won independence from Haiti in 1844. (After Haitians expelled the French and established their own country in 1804, they invaded and conquered the eastern part of the island, then a Spanish colony, in 1822.) Haitian immigration to the Dominican Republic took off during the early 20th century. Faced with drought, Haitian peasants would cross the border to work the zafra, or sugar-cane harvest; many stayed and put down roots. During the Trujillo regime, antihaitianismo was public policy. In 1937, on direct orders from Trujillo, the Dominican military committed an act of genocide, ordering laborers in the borderlands to say the word for "parsley" and executing those whose pronunciation betrayed their Haitian origins. As many as 20,000 people were killed in what became known as the Parsley Massacre. Still, overpopulation, poor infrastructure, and the lack of wage labor continued to drive the most desperate Haitians across the border into the Dominican Republic.
And it's back across this border that many have crossed, since some 200,000 Dominicans of Haitian descent were stripped of their citizenship in 2013. For most of its history the Dominican Republic offered birthright citizenship, except to those born "in transit," such as the children of diplomats and tourists. In September 2013 the Constitutional Tribunal, the Dominican Republic's highest court, expanded that caveat to retroactively include everyone born to undocumented immigrants since 1929. "Nationality ... is not only a legal bond," the court argued in its ruling, but involves among other things "a set of historical, linguistic, racial and geopolitical traits." Those who do not share these traits, it implied, do not share Dominicans' "particular idiosyncrasies and collective aspirations."
International criticism was swift. The ruling was condemned by the Dominican diaspora, whose remittances contribute substantially to the economy, as well as by the United Nations and the Inter-American Commission on Human Rights. The expat intellectuals Junot Diaz, a Dominican American writer, and Edwidge Danticat, a Haitian American writer, criticized the ruling in The New York Times and in congressional testimony, calling it an example of "appalling racism." (The reaction from the U.S. State Department has been subdued.)
Medina hit back, charging critics with threatening Dominican sovereignty. In June 2014 the legislature attempted to mitigate the situation by passing a special naturalization law, which allowed those affected by the Constitutional Tribunal's ruling to register as foreigners and re-apply for Dominican citizenship from scratch by June 17, 2015. But the naturalization process proved prohibitively complicated. To date, it is not clear how many people have received documentation, and how many are still waiting. Meanwhile Dominican officials have reportedly admitted to deporting some 14,000 people since June 2015, and claimed that an additional 70,000 left voluntarily. The Dominican embassy in Washington declined to provide updated estimates or a comment on the record.
Of the 12 judges who presided over the 2013 ruling—La Sentencia TC 168-13, often just called La Sentencia—only two dissented on the grounds that stripping people of citizenship en masse "injures human dignity." Much of the Dominican electorate does not share these misgivings. In this year's presidential campaign, the major opposition candidate, businessman Luis Abinader, criticized President Medina's immigration policy as "not strict enough," calling for intensified border security and more scrutiny over naturalization. Minor Dominican political parties run the gamut on immigration. On the far right, the National Progressive Force requested UN intervention to stop what it deems a Haitian invasion. The more moderate Opción Democratica party broke away from Medina's Dominican Liberation Party over its handling of La Sentencia. On the anti-immigration side, there is debate between nationalists, who see the issue as a matter of sovereignty, and blatant antihaitianistas.
Across the border, then-president of Haiti Michel "Sweet Mickey" Martelly denounced La Sentencia as "civil genocide." Later Martelly's foreign minister declared via Twitter that "The Haitian state does not receive persons at risk of statelessness." After the registration deadline passed last June, thousands in makeshift camps along the border became officially stateless.
* * *
The southernmost crossing point on Hispaniola lies between Haiti's Anse-à-Pitres to the west, and the Dominican Republic's Pedernales to the east. The area is a critical hub for the transfer of goods from the Dominican Republic into Haiti's Sud-Est Department, the area hardest hit by the 2010 earthquake. The local economy is consolidated in the bi-national market, a vast open-air bazaar where merchants sell dry goods, produce, staples, and secondhand clothing.
At least four informal settlements of refugees have sprung up in the area around Anse-à-Pitres, a little over a mile northwest of the border. Two of the settlements, Parc Cadeau 1 and 2, now quarter nearly 4,000 refugees, many of whom used to be vendors at the market. They were born to Haitian parents, or had Haitian grandparents, but had lived east of the border all their lives. They cut sugar cane, worked construction, sharecropped Dominican fields, or tended cows and goats in the foothills. Now their fields are deserted, their cattle stolen, their jobs abandoned, and for the first time, they live west of Rio Pedernales, in extreme poverty.
"We are suffering calamity," Annette Jeudy told us in perfect Spanish, which she learned growing up in the Dominican Republic. (Her Haitian-born parents spoke Creole.) Like most of the refugees in Parc Cadeau, she arrived just before the regularization deadline expired last June. In the language of the Dominican government, Jeudy "self-deported." It was fear that drove Haitian Dominicans like Jeudy from their homes in Baoruco Province north of Pedernales. And despite nearly unlivable conditions, it's fear that keeps them from going back.
"Those people want to burn us alive," Eliseo Jean Louis told us, "I wouldn't go back even if they let me. ... There is no law up in the mountains." A few Parc Cadeau residents standing nearby nodded in agreement. The remote towns they fled lack basic utilities, let alone law enforcement. Many people we spoke with had stories about threats from Dominican hooligans—tigueres, they're called—usually involving a machete or handgun, and tough talk about a sequel to the Parsley Massacre.
When we visited the Parc Cadeau camps last December, hunger was visible. Malnutrition had turned children's hair blonde. Bellies were swollen from protein deficiency. Drinking water was opaque. The encampment had far too few latrines for its population, and there was no waste management to speak of. Last November, 13 residents died of cholera, most of them children.
Without documentation, the refugees find themselves in a double bind. Language barriers and resource scarcity keep them from settling west of the border. Bureaucracy and intimidation keep them from returning to the Dominican Republic. Meanwhile the Haitian government, such as it is, has failed to accommodate them.
So they wait in limbo, in coops of tarp and corrugated tin.
Back in Santo Domingo, we spoke with government officials, activists, taxi drivers, artists, old money, drunks, teenagers, their parents, and grandparents. After learning why we'd come to the island—to see the material conditions on the border—a few people spoke passionately from one side or another, but most carried on in abstractions, as if the crisis was somewhere far away. Even the island's most progressive news outlet, Acento.com, neglected to mention the situation in its roundup of last year's political scandals.
Standing outside a bar in the colonial zone, fashion designer Ana Granata put it bluntly: "Few people care about this problem here in the capital."
Clearly immigration issues in the Dominican Republic are different from those on the ballot in Europe, which in turn are different from those in the United States. But as a case study of applied nativism, the country demonstrates the consequences of xenophobic policy, and how ordinary, well-meaning people in a modern democracy learn to accept them.