A Christopher Columbus Letter Makes Another Voyage Across the Atlantic
The Library of Congress returned a copy of a letter detailing the New World from 1492 back to an Italian library.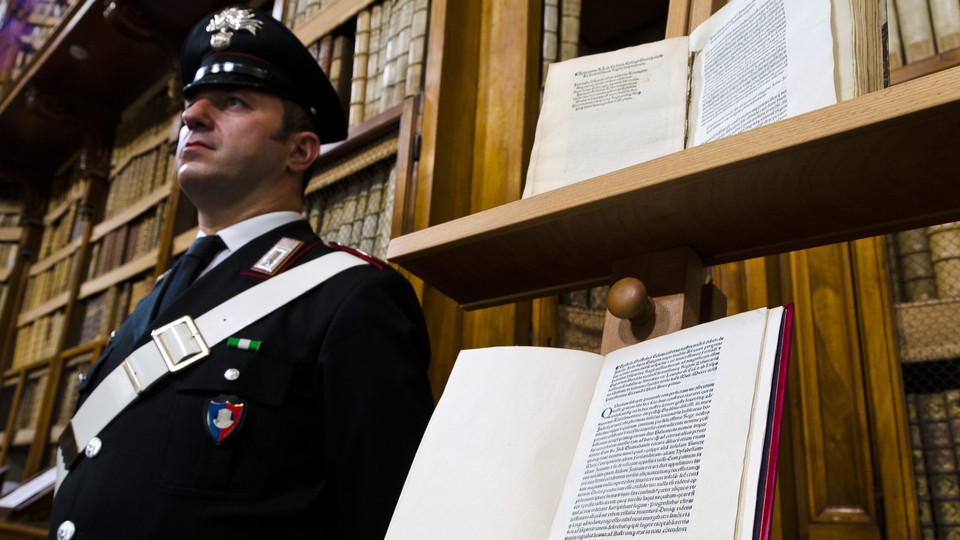 A rare copy of a letter that Christopher Columbus wrote in 1492, detailing his voyage to the Americas from Spain, was returned to an Italian library after U.S. officials determined the document had been stolen.
The eight-page letter, one of 80 surviving copies published between 1493 and 1497, had been sitting in the Library of Congress in Washington since 2004 as a gift from an anonymous donor. The letter, written to King Ferdinand and Queen Isabella of Spain, described the New World's people and scenery. But, as the Los Angeles Times details, officials recently discovered the letter's true owners.
In 2012, agents with Immigration and Customs Enforcement got a tip that one of the rare copies — printed in Rome by Stephan Plannek in 1493 — had been stolen from the Riccardiana Library in Florence, Italy, and replaced with a forgery.

The tipster, who was not identified, had been conducting research when he came across the letter and "strongly suspected" it was a fake, agent Mark W. Olexa of ICE's Homeland Security Investigations wrote in court filings.  

Olexa wrote that ICE agents, Italian law enforcement officials and experts examined the copy, which was bound in a volume of other works, and concluded it was indeed a fake.

A few months later, ICE agents got another tip that the original was actually located in the U.S. Library of Congress. An examination of the letter there revealed it was the original.
The Associated Press reported, citing American officials, that both the final owner and the Library of Congress acquired the letter in good faith. U.S. officials retrieved the letter from the Library of Congress and gave it back to their Italian counterparts, making yet another voyage across the Atlantic Ocean.