What's Next for the Rescued Chibok Schoolgirl?
Nigeria's president said Thursday the woman, now 19, would continue her education two years after Boko Haram abducted her from school.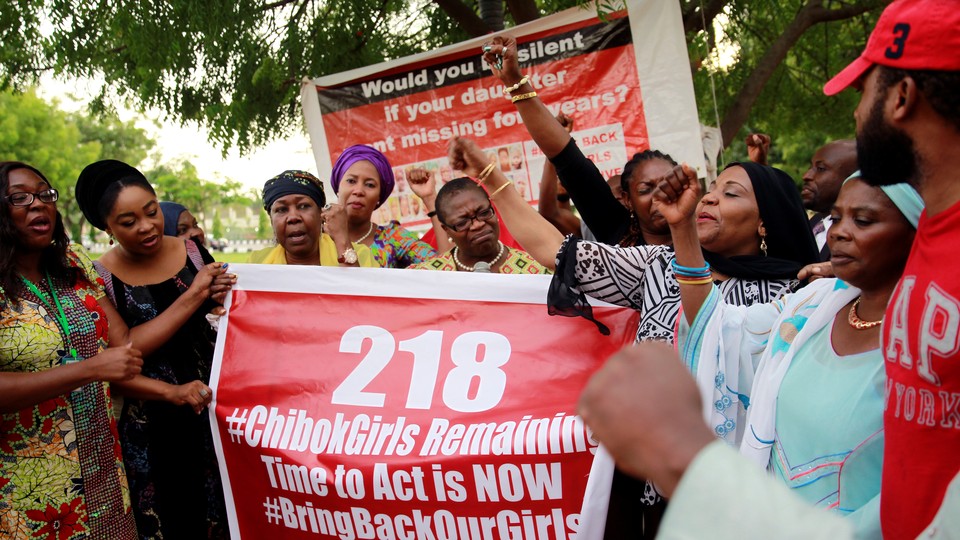 The Nigerian woman rescued this week after two years in Boko Haram captivity has been flown to Nigeria's capital to meet with the president.
The woman, carrying her four-month-old baby, arrived in Abuja Thursday for a meeting with President Muhammadu Buhari. She was 17 years old when she and 218 girls were abducted in 2014 from a school in the town of Chibok by Boko Haram, the Islamist militant group. The Nigerian government and Bring Back Our Girls, the group that represents the families of the abducted girls, have identified her as Amina Ali Nkeki.
Earlier this week, a Nigerian Army-backed volunteer group that is fighting the terrorist group found Nkeki, now 19, wandering in the Sambisa Forest, located in northeastern Nigeria near the border with Cameroon.
Buhari said in a statement Thursday that government doctors examined Nkeki for about five hours Wednesday and that she met with UNICEF staff.
"Although we cannot do anything to reverse the horrors of her past, federal government can and will do everything possible to ensure that the rest of her life takes a completely different course," Buhari said. "We will ensure that she gets the best medical, psychological, emotional and whatever other care she requires to make a full recovery and be reintegrated fully into society."
Nkeki has been reunited with her mother, who accompanied her to Abuja Thursday, the AP reported. Aid workers criticized the meeting, telling the AP Nkeki should be receiving medical care and not visiting political leaders so soon after she was found.
Buhari said Nkeki would return to school. "No girl in Nigeria should be put through the brutality of forced marriage," he said. "Every girl has the right to an education and a life choice."
Relatives of the missing 218 schoolgirls and other demonstrators hold regular protests in Abuja calling for the government to increase its efforts to find them. A total of 276 girls were taken when Boko Haram raided the school's dormitories in April 2014, but more than 50 managed to escape within hours as militants drove the students away on trucks.
Boko Haram adheres to strict Sharia law and opposes Western-style education. It has carried out bombing attacks in public places since 2009. Last year, Boko Haram aligned itself with the Islamic State, calling itself the group's "West African province."