Canada's Long-Awaited Apology
The Canadian government formally apologized for the 1914 Komagata Maru incident on Wednesday.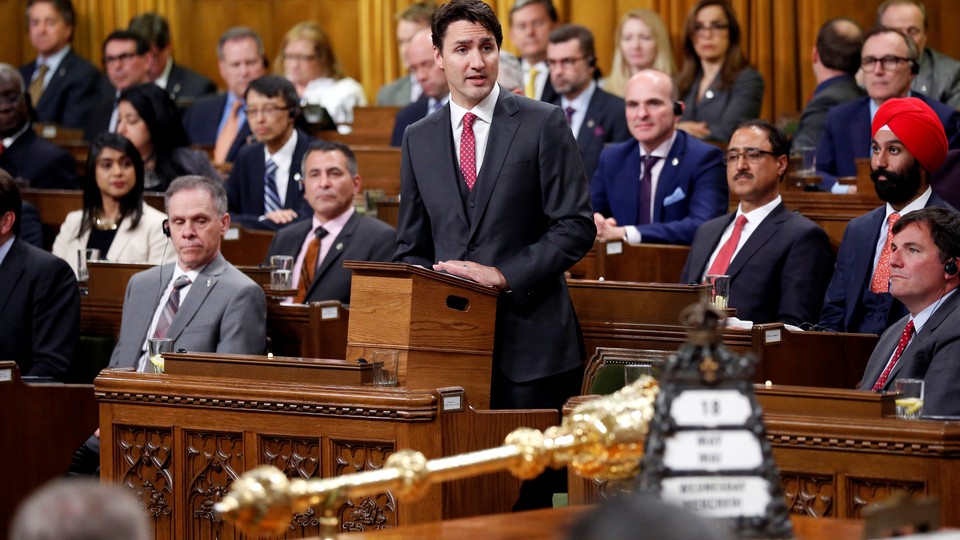 Canadian Prime Minister Justin Trudeau formally apologized in the House of Commons on Wednesday for his country's role in the Komagata Maru incident more than a century earlier, calling it "a great injustice."
For many Canadians, the Komagata Maru's voyage symbolized the country's racially exclusive immigration laws in the early 20th century. The converted coal freighter sailed from Hong Kong to Vancouver with 376 South Asian immigrants, many of whom were Sikh inhabitants of other British colonies, to challenge Canada's immigration laws. The Washington Post has more:
In a challenge to the rules, the Komagata Maru, chartered by a Sikh businessman with ties to an influential Sikh political party in the Americas, steamed across the Pacific. Its arrival in Canada was anticipated by doom-mongering local headlines, which warned of an impending "Hindu invasion."

Sir Richard McBride, then the Conservative premier of British Columbia, made clear the explicit racism of Canada's policies on the night the Komagata Maru reached Vancouver.

"To admit Orientals in large numbers would mean the end, the extinction of the white people," he said. "And we always have in mind the necessity of keeping this a white man's country."

After an almost two-month standoff, which also involved feisty demonstrations by ethnic Indians on Vancouver's shores, the ship was eventually turned away. When it reached Calcutta, now Kolkata, in India, British colonial authorities attempted to seize suspected Sikh radicals on board. The semi-riot that ensued saw security forces kill at least 19 passengers and arrest many others.
"I apologize, first and foremost, to the victims of the incident," Trudeau said in his remarks. "No words can fully erase the pain and suffering they experienced. Regrettably, the passage of time means that none are alive to hear our apology today. Still, we offer it, fully and sincerely."
After Trudeau spoke, the leaders of Canada's other major political parties echoed his sentiments and expressed their regrets. His predecessor Stephen Harper previously apologized for the incident during a 2008 speech in British Columbia, but leaders of Canada's Sikh community rejected it because the apology had not been made in Parliament.
Although often symbolic, a prime minister's apology from the floor of Parliament can be a powerful event. In 1988, Brian Mulroney apologized for the internment of Japanese Canadians during World War II and passed a reparations bill similar to the U.S. law for Japanese Americans. In 2006, Harper apologized for the country's exorbitant "head tax" on early 20th century Chinese immigrants after decades of activist pressure, offering compensation to survivors and their spouses.
Perhaps the most famous apology came in 2008 when Harper apologized for Canada's residential-schools system, a government program that took indigenous children away from their communities and placed them into government-run and church-run schools for assimilation. Many of the children encountered abusive or traumatic environments in the schools, and at least 6,000 of them died between 1874 and the late 20th century.