Six Months in Prison for a Burmese Poet Charged With Online Defamation
Maung Saung Kha wrote that he'd tattooed a now-former leader's name on his penis.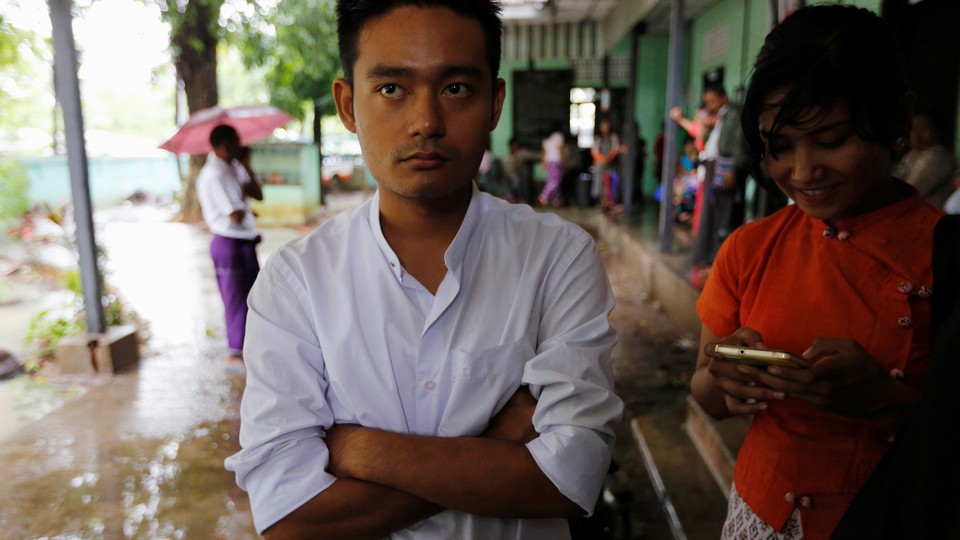 A court in Burma found a 24-year-old poet guilty Tuesday of online defamation and sentenced him to six months in prison for a poem he wrote in October that claimed he'd tattooed a picture of the country's then-president on his penis.
The poem read:
On my manhood rests a tattooed
portrait of Mr. President
My beloved found that out after
we wed
She was utterly gutted,
Inconsolable.
The poet is Maung Saung Kha, who has said he does not, in fact, have the tattoo. At the time he posted the poem on Facebook, Burma, which is also known as Myanmar, was in the midst of an election. Thein Sein, the incumbent, was running against the candidate of the National League for Democracy, the party of Nobel laureate Aung San Suu Kyi. He eventually lost.
Saung Kha said he wrote the poem because some of Suu Kyi's supporters  had tattooed her image on their bodies. Seeing that, he told The New York Times, he wondered, "Where would they tattoo those whom people are embarrassed by?"
Although the court ordered him to six months in prison, Saung Kha was released Tuesday for time served.