The Politics of Confusion in Brazil
The acting house speaker nullified last month's vote to impeach President Dilma Rousseff.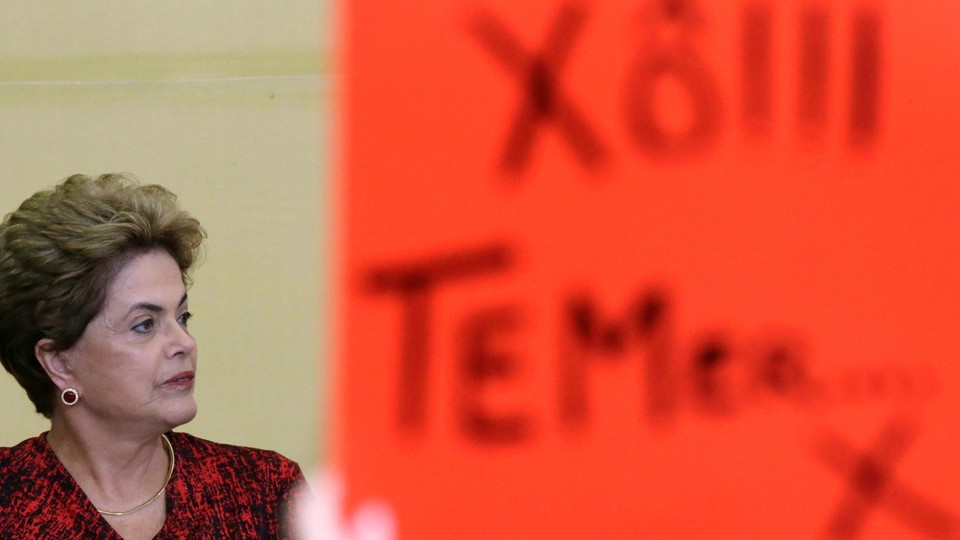 Brazil's acting speaker, Waldir Maranhao, nullified Monday last month's House vote to impeach President Dilma Rousseff, further throwing Latin America's largest country into political uncertainty.
The House vote on April 17 had allowed the process to move to the Senate, which was due this week to vote on the impeachment motion. It is not immediately clear whether that vote will now move forward. "I don't know the consequences," Rousseff herself said in Brasilia. The Brazilian opposition is pushing to impeach Rousseff on allegations she doctored fiscal accounts to help her re-election in 2014. She has denied the charges.
Maranhao took over as speaker of the lower house last week after Eduardo Cunha, the speaker, was suspended by the country's Supreme Court amid a corruption investigation against him. Maranhao had opposed the April 17 impeachment vote, and it's not clear if his decision on Monday can be overruled. He has called for a new vote to be held.
The BBC has the background:
Mr Maranhao said there had been irregularities during the lower house session in which its members voted in favour of the impeachment process going ahead.

He said members of the lower house should not have publicly announced what their position was prior to the vote.

He also said it had been wrong of party leaders to instruct their members how to vote.
For more on the political crisis in Brazil, go here.