Who's Missing From Brazil's Cabinet?
Ministers who represent half of the country's population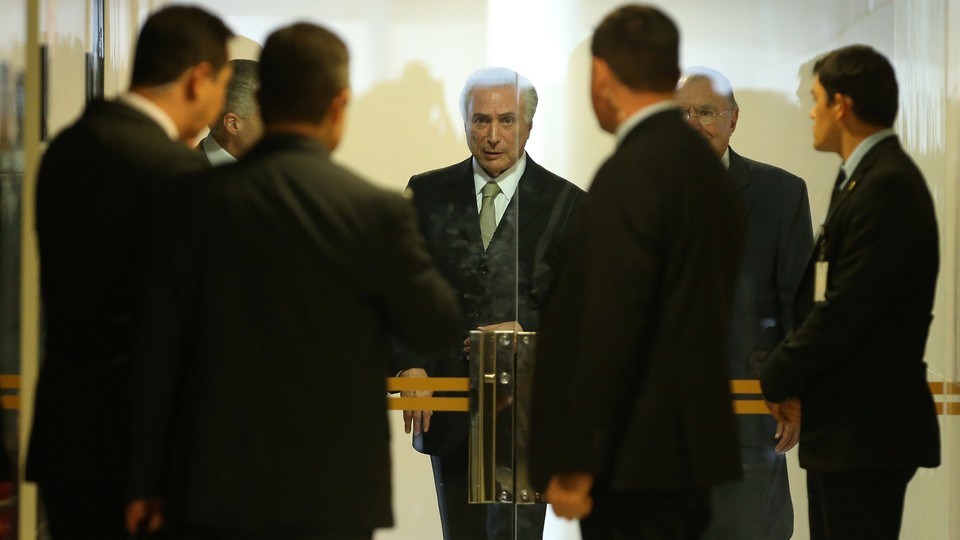 Last December, Michel Temer wrote a letter to his boss. Temer, the vice president of Brazil, complained that Dilma Rousseff had excluded him from government decisions and treated him like nothing more than a "decorative vice president." The note was leaked and published online by several newspapers, and the denizens of the Internet quickly worked their magic, producing memes depicting Temer as a Christmas decoration.
Fast-forward six months and Temer is the interim president of Brazil, put in office as the country's legislature decides whether to impeach Rousseff, the leader of the center-left Workers Party (PT), over allegations she manipulated economic data ahead of her re-election. Temer is a constitutional lawyer and a member the centrist Brazilian Democratic Movement Party (PMDB), the country's largest political party. (He's also embroiled in his own political scandals.) In his first days in the presidency, Temer has vowed to fight corruption and introduced measures to reduce the fiscal deficit as Brazil faces its worst recession in decades. He has also named a new cabinet of ministers that has attracted a lot of attention for what it's missing: women.
All the ministers in the cabinet are men who identify as white, making Temer the first president since Ernesto Geisel, who served from 1974 to 1979, not to include women.
The reshuffling has cut the number of cabinet posts from 31 to 22, and unseated four female cabinet ministers, one of whom was the only Afro-Brazilian minister in the government, according to the AP. Temer aides told Reuters that the cabinet was selected quickly from parties that would support Temer. The acting president had asked Ellen Gracie Northfleet, a judge who in 2000 became the first woman to be appointed to the country's Supreme Court, to take the office of the comptroller general, but she declined, according to Brazilian media.
"We tried to look for women, but it wasn't possible," said Eliseu Padilha, Temer's new chief of staff, when the cabinet was named.
Last week, Josi Nunes, a female PMDB lawmaker, told reporters that Temer said he would hire women in his government "a little further ahead." But for supporters of PT, whose policies have for years promoted social justice and racial equality, Temer's decision is troubling. The cabinet's composition has raised concerns the new president seeks to make Brazil more conservative. His decision to eliminate the ministry of women, racial equality, and human rights and consolidate it into the justice ministry, as well as to merge the culture ministry into the education ministry, has only compounded their fears.
Temer's critics point out his new cabinet is not representative of Brazil's population, which is 51 percent female. But it is does mirror the makeup of the country's congress, which has been about 90 percent male since 2003, and more than that in the years before. For advocates of women's rights around the world, the new cabinet is a step backward, especially as it comes after Rousseff, before her precipitous decline, became Brazil's first female president in 2010.
Worldwide, 22 percent of all national legislators were female as of August 2015, up from 11 percent in 1995, according to the United Nations. The current U.S. Congress has 108 female lawmakers, 20 percent of the legislature but a record in American history. Canada's legislature is 26 percent female, though last fall Prime Minister Justin Trudeau announced the country's first 50 percent female cabinet. Brazil is behind its fellow South American countries Argentina, Bolivia, Chile, Colombia, Peru, Uruguay, and Paraguay in female representation in parliament, according to the World Bank. The Inter-Parliamentary Union, an international organization of parliaments, ranks Brazil 155th in female representation among 191 countries.
Women first joined the Brazilian cabinet in 1979 during the military dictatorship under General Joao Figueiredo. All successive presidents named women to their cabinets. A year into Rousseff's first term, the Palacio do Planalto, where Brazil's president works, looked different than in previous administrations. Der Spiegel's Jens Glüsing described the president's office in 2012:
Planning Minister Miriam Belchior rushes past on her way to visit Chief of Staff Gleisi Hoffmann, with whom she will discuss a multi-billion-real investment program to combat poverty. On the way she is greeted by Ideli Salvatti, the woman who manages the government's relations with Congress. Two floors down, Press Secretary Helena Chagas is talking on the phone. In the front office, several women are reviewing the day's newspapers.

Wherever you look in this white marble palace, there are female ministers, female advisers, female experts and female undersecretaries. Only the waiters and the security guards in the entrance hall are men. Thanks to President Dilma Rousseff, everything else at government headquarters is firmly in female hands.

Ten of them sit in the cabinet. All but one of her inner circle of advisers are women. This isn't because of quotas. "Given a choice between a man and a woman with the same qualifications, she prefers to hire the woman," says Gilberto Carvalho, who runs the presidential office.
When she began her second term in 2014, Rousseff appointed six women to cabinet positions. Earlier this month, after she was suspended, she criticized Temer's cabinet picks.
"Blacks and women are fundamental if you truly want to construct an inclusive country," Rousseff told Bloomberg. "From its formation, I think the government clearly reflects that it is going to be liberal in the economy and extremely conservative on the social and cultural side."
This week, Temer, who is two weeks into the job, announced several proposals aimed at salvaging the country's deteriorating economy. He bashed his critics, saying his new government was the victim of "psychological aggression," The New York Times reported Tuesday. For a moment, the Temer who wrote that letter to Rousseff last year appeared. From the Times: "Slapping his hand on his desk before television cameras, a perturbed Mr. Temer proclaimed: "I've heard, 'Temer is very fragile, poor little thing, he doesn't know how to govern.' Gibberish!'"