Surveying Fort McMurray by Satellite
The provincial government has released a mapping app to give evacuees their first look at burned neighborhoods.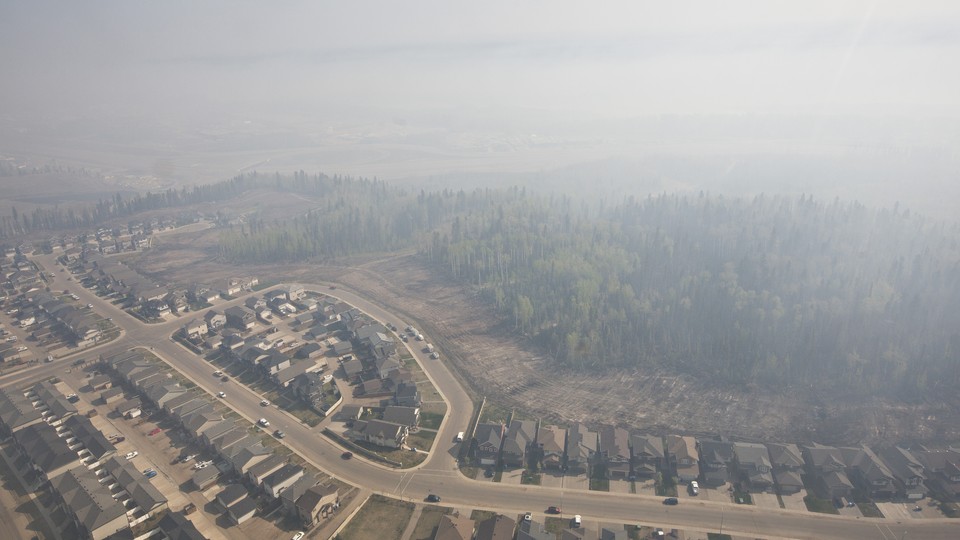 The government of Alberta has released a mapping app that allows more than 90,000 residents of the Fort McMurray area who were forced to evacuate by the massive wildfire to view satellite imagery of their homes.
The app, released Saturday, resembles Google Earth and allows users to zoom in and out over terrain (access it here). At least 94,000 people were displaced and 2,400 homes and businesses were destroyed by the wildfires that erupted earlier this month and quickly spread across the northern part of the province. Heavy smoke obscured the area, and in the first days of the blaze officials could not describe the extent of the damage.
Danielle Larivee, Canada's municipal affairs minister, warns in a message that accompanies the app that "viewing these images may be traumatic."
"Structures that appear to be standing should not be considered undamaged," the message says.
CBC News spoke to a Fort McMurray couple who learned through the app that their home was undamaged:
​Rifat and Kozeta Dyrmishi, who are staying at the Northlands evacuation centre in Edmonton, are breathing a sigh of relief after searching for their home on the app for the first time.

"It's our home, our house, we have all our belongings and memories and everything," Rifat said.

"My house is safe, it's great."

Seeing their home on the app offers a peace of mind they said you can't get from reports saying certain neighbourhoods might be untouched, he added.
Alberta officials say they hope evacuees can eventually use the images accessible on the app for insurance claims. The images come from the French space agency's satellite Pleaides-1A.
More than 2,000 firefighters continue to battle the the blaze, which Alberta's government described as "out of control" Sunday night. Fort McMurray remains under mandatory evacuation order nearly two weeks after its 88,000 residents were forced to leave. Sixteen centers for evacuees are operating across Alberta.
The Alberta government warns Fort McMurray residents should not expect to return to their homes "for an extended period of time." Only emergency responders have been allowed into the city. Residents can return when wildfires are considered to no longer pose an imminent threat and fire, police, local government, and other services are restored.