Venezuela's Two-Day Workweek
President Nicolas Maduro said all government workers—except essential ones—will work only on Mondays and Tuesdays as the country battles an electricity crisis.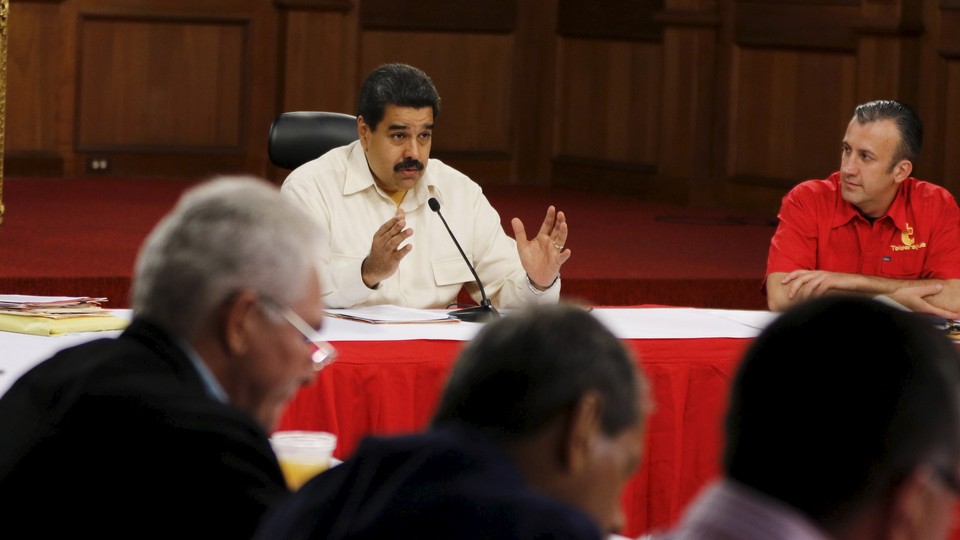 Venezuelan President Nicolas Maduro in his weekly television address on Tuesday announced that about 2 million government employees would work on Mondays and Tuesdays alone.
Here are his remarks (the translation's via Bloomberg):
The public sector will work Monday and Tuesday, while we go through these critical and extreme weeks where we are doing everything to save the Guri.
Guri is the name of the giant hydroelectric dam where water levels have fallen precipitously because of a lingering drought.
In an attempt to combat the effects of the power crisis caused by that drought, the government had previously announced steps it said would conserve electricity: Government workers had been given Fridays off in April and May; shopping centers were told to reduce their operating hours; power cuts were introduced for four hours each day; and Maduro said Venezuela would move its clocks forward by 30 minutes on May 1 to reduce electricity demand in the early evenings.
But these steps have also resulted in a high economic cost, and critics of the government's policies say Maduro has mismanaged the crisis. Venezuela, an OPEC member that is one of the world's biggest oil producers, has also been battered by the multiyear-low prices of its top foreign-exchange earner.