Patrolling the South China Sea
The announcement of joint military operations by the U.S. and the Philippines is likely to annoy China.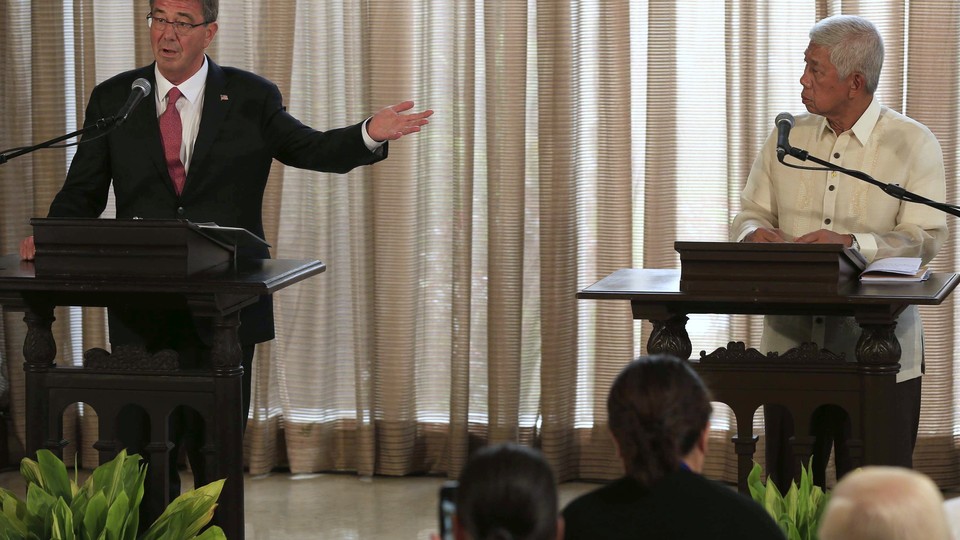 Defense Secretary Ash Carter said U.S. ships had already conducted patrols with the Philippines in the South China Sea, which China claims almost in its entirety. And, he added, U.S. troops and military equipment would be sent on regular rotations to the Philippines.
Stars and Stripes reported that the two countries have twice conducted joint patrols in the South China Sea, in March and in April; regular joint patrols will continue in the future, it reported.
The initiatives are designed so that the United States does not increase its permanent footprint in its former colony, but they demonstrate that the two countries are increasing security cooperation amid joint concerns over China's actions in the region's disputed waterways.
About 5,000 U.S. troops are in the Philippines as part of the annual Balikatan exercise, which ends Friday; 275 will remain until the end of the month when they will be replaced by follow-on personnel.
In his comments to The Atlantic's Jeffrey Goldberg, published last month, President Obama said the U.S. policy in the South China Sea had "surprised China, frankly, and have very much served our interest in strengthening our alliances." Still, Carter insisted the U.S. actions weren't targeted at China, but Voltaire Gazmin, his Filipino counterpart, said the presence of U.S. forces "will deter uncalled-for actions by the Chinese."