The Overturning of the Ergenekon Convictions in Turkey
The country's highest appeals court set aside the verdicts against 275 people accused of plotting a coup against Recep Tayyip Erdogan.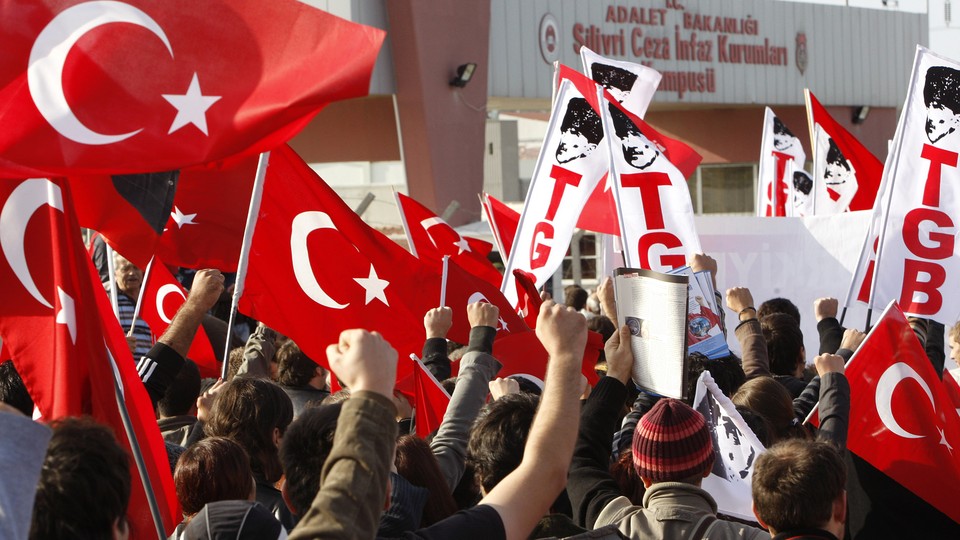 The appeals court said the lower court's convictions were being overturned because prosecutors had been unable to prove that Ergenekon, the alleged clandestine plot against the government, actually existed.
Hurriyet, the Turkish newspaper, has the background:
The Ergenekon coup plot trial, considered the most important legal battle in recent Turkish history, reached an end on Aug. 5, 2013, after Istanbul's 13th High Criminal Court handed down severe punishments.

The verdict trial, which decided the fate of 275 suspects at the end of a five-year process, resulted in hundreds of years of imprisonment in total and several aggravated life sentences for a series of the country's high-ranking army members, journalists and academics.

Suspects faced a series of charges from a combined mass of different cases, but with the overall focus around their implication in the Ergenekon network, which was ultimately acknowledged by the court as a terrorist organization that had attempted to overthrow the government.
The appeals court also found other problems with the case, including illegal wiretapping and unlawful searches. The BBC adds Thursday's ruling may lead to a retrial. Erdogan, Turkey's president who was prime minister at the time of the alleged plot, has moved to consolidate his power over the country and its institutions. The military, long seen as the guarantor of Turkey's secularism—through force if necesssary—had skeptically viewed the growing influence of Erdogan and his Islam-based Justice and Development Party (AKP). The Ergenekon convictions dulled some of the respect the military enjoyed. It's unclear how Wednesday's decision will affect that.